'Collateral'
Collateral, a good movie on its release, improves on a second viewing — now it looks like the best thriller Hollywood produced in 2004, and the best movie in a car since Taste of Cherry, the meditative Iranian prize-winner at the 1997 Cannes Film Festival.
Collateral is a duet featuring diffident cabbie Max (Jamie Foxx) and an all-night fare named Vincent (Tom Cruise). The chatty passenger turns out to be a contract killer on a package job, and Vincent ends up holding Max hostage for the duration. It's just a twist on a familiar plotline, but director Michael Mann seems to conceive of it as a Hitchcock thriller-romance orchestrated by John Woo. The action scenes (a spectacular nightclub apocalypse, a hall-of-glass stalking scene) are spectacularly gorgeous, even on the small screen. And the vision of nighttime Los Angeles, which Mann admits in the commentary and the extras was his motivating force, is mesmerizing.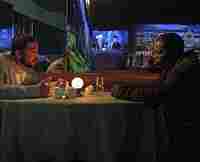 The signature shot is from an overhead helicopter looking straight down on the Los Angeles street grid, colored by orange crime lights and uniquely revealed by the special capabilities of high-definition video. (Mann explains it all helpfully in the extras). Collateral is a paean to the beauty of a lawless city at night, the way Mann's television series Crime Story and Miami Vice drooled over Las Vegas and Miami.
There's even a rolling close-up of a car fender — a camera setup sure to induce nostalgia among Miami Vice fans, and something of an inside joke since it's a cab, not a Ferrari. That shot comes just before the appearance of the film's Major Metaphor: The taxi pauses as the two nocturnal prowlers within the cab marvel at the sight of wilder and more unexpected predators — coyotes sauntering across an urban boulevard.
Mann is not really a director of ideas so much as an impeccable and meticulous stylist. In Collateral, multicultural Los Angeles is framed with an embarrassing hint of ominous dread — and Chicago native Mann confesses a certain uneasiness with this aspect of the city in his commentary. And, as usual, the love of testosterone and of the impenetrable camaraderie of men (even enemies — maybe especially enemies) seems to have Mann's heart. The briefly appearing female characters, such as those played by Irma P. Hall and Jada Pinkett Smith, are flimsy at best and plot devices at worst. But the guys are brimming over with character detail and depth.
Jamie Foxx well deserved his flurry of year-end awards attention for this "supporting" performance. He is clearly the film's central character, and is in fact the movie's leading man. But in Hollywood prize land, "leading man" is still the official territory of the seasoned star — meaning Tom Cruise. As the contract killer with a personality (if not a conscience), Cruise avoids the temptation to dull the villain's ruthless edge or to milk his quirks for audience sympathy, and he looks great in the choreographed gunfights. The prematurely gray hair seems to have helped Cruise find his balance both physically and dramatically, and although Cruise is always weak in implying a character's interesting undercurrents, director Mann does that for him with editing.
Foxx, on the other hand, seems to be a real actor — the kind of alchemist who effortlessly suggests more than the dialogue supplies or the conventional shape of the story has in store for him. It's the little things that he does — a fresh and convincing inflection of the voice as he repeats old hostage clichés along the lines of "I can't do this," or displays his fear with a deft facial twitch, or how he suddenly finds a role to play when forced into a mob nightclub transaction for Vincent... Foxx's performance presages his emergence as an Oscar front-runner, for his metamorphosis in the biopic Ray.
Extras include Mann's commentary, marred initially by his penchant for oh-so-patiently explaining what the characters are really doing on screen — his direction makes that clear enough in the movie itself. Mann does finally get into more interesting territory — his own motivations, shooting details and on-set problem solving. On a second disk is a slick but satisfying making-of documentary, studded with fascinating comments from Mann's crew and slightly stupefied praise from the cast (although at one point Jamie Foxx mutters something about "take 75"). There is also some amusing rehearsal footage paired with the corresponding finished sequences. Deleted scenes and special-effects demonstrations round out the usual DVD suspects.