Web Ads Venture Where Super Bowl Spots Won't
This year, the ads you'll see on the Super Bowl are getting less attention than the ads you won't see.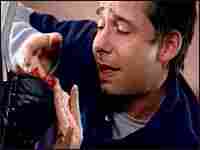 Actress and humorist Annabelle Gurwitch, who appeared in this Budweiser ad, was none too pleased it that was pulled.
Several prominent advertisers have pulled slightly controversial ads from this year's Super Bowl in order to feature them online. While the broadcast line-up will include family-friendly spots with patriotic themes and the Muppets, the Internet has become the destination for those seeking edgier advertising.
For Web Eyes Only
The FOX network rejected this ad, starring a disrobed Mickey Rooney, for Airborne's cold remedy (Warning: the video shows Rooney's backside):
Reebok originally conceived of its "Terry Tate, Office Linebacker" series as a set of Internet-only ads. But the company liked the concept so much that it decided to premiere the ad campaign during the 2003 Super Bowl:
Related NPR Stories