Anti-Syrian Sentiment Surges in Lebanon
NPR's Alex Chadwick speaks with Lebanese Parliamentary Minister Walid Jumblatt, a leading political opposition leader, about the surge in anti-Syrian sentiment in his country following the assassination of former Lebanese Prime Minister Rafik Hariri two weeks ago.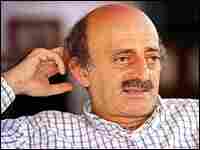 NPR transcripts are created on a rush deadline by Verb8tm, Inc., an NPR contractor, and produced using a proprietary transcription process developed with NPR. This text may not be in its final form and may be updated or revised in the future. Accuracy and availability may vary. The authoritative record of NPR's programming is the audio record.