'My Architect'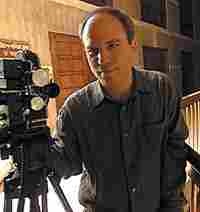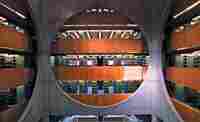 Within the documentary category, there's a sort of sub-genre that's all about the quest. The object of pursuit in the 2003 film My Architect is knowledge of a lost father. It's a chase film, in its own way.
The movie begins with a whirl of microfilm, which settles on a slightly blurry item from the front page of The New York Times from 1974: "Louis I. Kahn, whose strong forms of brick and concrete influenced a nation of architects and made him, in the opinion of most architecture scholars, America's foremost living architect, died Sunday evening, apparently of a heart attack, in Pennsylvania Station. He was 73."
Louis Kahn died mysteriously, with his address crossed out on his identification and half a million dollars in debt. His son was 11 years old. Neither the young Nathaniel Kahn nor his mother is mentioned in the Times obituary. That's because Kahn maintained three families, all of whom lived within a few miles of each other. Only his legitimate wife and daughter were publicly recognized.
"I didn't know my father well," the younger Kahn reflects -- and his struggle to redress that lacuna of love provides, in passing, a splendid introduction to a visionary whose principled aesthetic philosophy stands in curious contradiction to his heartless private life.
Kahn follows the trail around the world. As he visits his father's buildings, he explains their significance and places each in the context of family dramas, often with the assistance of an impressive trove of archival footage, ranging from home movies to newsreels. And he elicits memories and analysis of Louis Kahn from the likes of I.M. Pei, a delightfully catty Philip Johnson and another famous dad, Philadelphia city planner Edmund Bacon, father of actor Kevin. One of the most revealing interviews comes from a former foreman who recognizes in the pockmarked surfaces of Kahn buildings the architect's own badly scarred visage, the result of a childhood accident.
Nathaniel Kahn is an able guide who seems to have inherited his father's cool confidence as well as his narrow eyes and full lips. He's framed each section of his tough, sad, riveting documentary with titles that suggest to viewers what they may expect. One of the last is called "The Truth About the Bastard."
What's Included:
For a film allegedly culled from more than 200 hours of tape, there's surprisingly little in the way of extras. They include only five terse "directors' comments" that showcase Nathaniel Kahn at a Q&A session someplace. Each includes a little extra footage, but none are more than 10 minutes long. I would have enjoyed seeing more Kahn buildings, and perhaps uncut interviews with Kahn from television newsroom archives.