Gary Greff's Singular Vision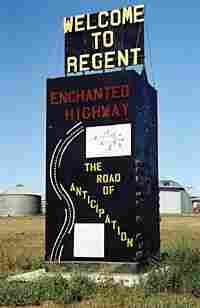 Where most people saw a lonely two-lane highway between Interstate 94 and the town of Regent, N.D., Gary Greff saw salvation for his disappearing home town.
In the past decade, Regent has lost one-quarter of its population. Just 200 residents remain, along with a handful of businesses — a cafe, a bar, a small grocery store and a few others. Regent is typical of many rural Midwest towns in danger of disappearing completely as young people leave for cities and those who stay grow older.
Greff left his hometown when he was a teenager — like so many others — and became a teacher and principal in cities across the Midwest. But he quit at the age of 40 and returned home to Regent, and in 1992 hatched his plan to save the town.
His vision? To build 11 of the world's largest metal sculptures, and space them along the 30-mile road from the interstate to Regent. Tourist dollars and new businesses would follow the route, and keep Regent alive.
"Our goal is to change Regent into the metal art capital of the world," Greff said when trying to persuade his neighbors to contribute to the cause. "If nobody tries, we are a community that's going to be extinct. I'm one person who will not let that happen."
Inspired by a small sculpture made out of tin cans, Greff drew up plans to create a giant tin family. The scale was huge — the father's baseball cap alone is the size of a Volkswagen Bug.
The town was hesitant at first, but soon rallied around the idea and raised about $8,000. Volunteer farmers pitched in to weld the massive metal family, and pretty soon the first sculpture was in place.
On Tuesday, the three-part series continues with the story of why the town of Regent has turned against Greff's Enchanted Highway project — and why he keeps building sculptures despite the opposition.