Russian President Putin on Historic Trip to Middle East
Russian President Vladimir Putin visits Egypt, the first time in 40 years Cairo has received a Soviet or Russian leader. He discusses Mideast peace prospects with Egypt's President Hosni Mubarak. Putin is set to be the first Russian leader to visit Israel when he travels there later Wednesday.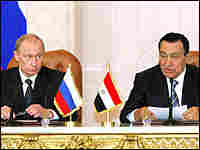 NPR transcripts are created on a rush deadline by Verb8tm, Inc., an NPR contractor, and produced using a proprietary transcription process developed with NPR. This text may not be in its final form and may be updated or revised in the future. Accuracy and availability may vary. The authoritative record of NPR's programming is the audio record.