How to Eat a Cupcake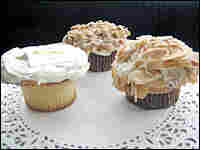 About Warren Brown
Warren Brown is the owner of CakeLove, a Washington, D.C., bakery. He is at work on a cookbook of the same name.
Still Hungry?
I am and always have been a cupcake fan. I love them for the frosting, the cake and the paper. That's right, the paper. I was one of those kids who chewed -- and sometimes ate -- the cupcake paper.
Before each bite of a cupcake, I carefully peeled the paper away from the tender buttery cake and billowy buttercream frosting and saved it for last. Call me crazy or just plain unhinged, but I always looked forward to squeezing the last bit of cake heaven from the doughy and sugary paper.
Why chew the paper? Well, it's a mix of being greedy for the flavor of cake and just jonesing for the pleasures of consumption. Those who've chewed know that a decent amount of cake can be left behind in the carefully pleated paper, and chewing it can satiate the desire for a second cupcake.
And that paper tastes very, very good. I chew it like a wad of bubble gum until I lose the last hints of sugar and feel it become hard and pulped. And that's it.
Bliss is but a moment with a cupcake.
Coming back to reality always means finding a proper way to dispose of the paper wad. Hold it in your hand and give your best friend a high-five. Afterwards, deny culpability -- blame it on the kid trapped inside you.
Where do I currently get my fix for cupcakes and paper? I conveniently have an all-access pass to these delightful snacks at my bakery, CakeLove. I opened this tiny retail, walk-up bakery in 2002 after a brief career practicing law. Nowadays instead of briefs and legal research, I spend my time with cupcakes, cakes and other goodies that are baked from scratch all day long.
Here is a new recipe that tastes light and has a crunchy top, too. Hopefully both camps of cake fans -- those who like a crunch as well as those who favor a gentle crumb -- will be mollified with this starter cake. Have fun with the recipe. You can omit the white chocolate without much harm and lime or orange can be swapped for the lemon zest.
Lemon-White Chocolate Cupcakes
Preheat oven to 335 F.
Ingredients
Creaming Items
6 tablespoons unsalted butter, room temperature
1 ½ cups extra-fine granulated sugar
1 tablespoon lemon zest, minced (usually 1 lemon; pour on a dash of sugar to expedite mincing)
Seeds scraped from half of a vanilla bean
Eggs
1 egg
2 additional yolks
Dry Items
1 ½ cups all-purpose flour (sift and measure 6 ounces on a scale, if you have one)
¼ teaspoon baking soda
¼ teaspoon salt
2 tablespoons potato starch (available in the Jewish foods aisle at most stores)
6 tablespoons white chocolate chunks (optional, but delicious ingredient)
Wet Items
½ cup plus 2 tablespoons whole milk
1 teaspoon vanilla extract
Combine the butter, sugar, lemon zest and vanilla bean seeds with electric mixer on the lowest speed and mix for 3-4 minutes or more. (If you have a standing electric mixer, use the flat, paddle attachment.) Do not rush -- this is the most critical stage of the recipe. Creaming the ingredients takes patience and a careful eye; they are creamed when they look fluffy, lighter in color, and physically feel aerated.
Add the egg and yolks, waiting about 30 seconds between additions. Next, alternately add the dry and wet items that you have set aside in separate bowls.
Scrape the sides of the bowl once all of the ingredients are added and mix on lowest speed for another minute or so.
Scoop into the cupcake pan lined with soon-to-be delicious cupcake papers. Bake for 20-22 minutes or until a tester poked into the center comes out clean.
The cupcakes will brown and crust on top a little more than normal. I think it's due to the cocoa butter and sugar from the white chocolate. Whatever the case, it's OK, because it tastes delicious.
Buttercream Frosting
This is an adaptation of a classic buttercream known as white buttercream or Italian meringue buttercream. It's not commonly made because of the labor needed to produce it. Try it. I love it and CakeLove makes it daily. This recipe makes enough to let you pile it high on each cupcake.
Ingredients
For Meringue
5 egg whites from large eggs
¼ teaspoon cream of tartar (can be omitted)
¼ cup extra-fine granulated sugar
For Syrup
1 cup extra-fine granulated sugar
¼ cup water
For Final Step
1 pound unsalted butter, room temperature
Flavoring Options
1-2 teaspoons vanilla extract
2-4 tablespoons amaretto liqueur
2-4 tablespoons rum
With electric mixer on high speed using whisk attachment, whip the whites to stiff peaks. If you're using a standing mixer, you can begin the syrup while the egg whites turn to meringue. Set aside when meringue is ready.
Over a medium-low flame, bring sugar and water to 245 F. When it has reached the right temperature, pour the sugar syrup in a thin steady stream along side the beater while the mixer is running on the highest speed. Continue to whip until the cooked meringue is cooled.
Cut the room temperature butter into ½ inch slices and whip into the frosting. Finally, add whatever flavoring you desire.
The fat-free version calls for using no butter.