Study: Red Is the Color of Olympic Victory
Study: Red Is the Color of Olympic Victory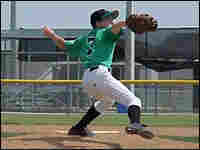 Among those who question the finding that red is for winners is sports statistician Scott Berry, who also coaches the College Station (Texas) Dragons, a baseball team for 12-year-olds. He notes that the Dragons — who wear green and black uniforms — have a winning season so far. Above, Dragons lefty Stafford Brantley on the mound.
New research that examined data from the 2004 Olympics in Athens concludes that athletes who wear red seem to win more often.
Scientists from the University of Durham in England found that, for the competitions they studied, the athlete wearing red won 55 percent of the time. In this week's issue of the journal Nature, they report that red won more often across the board in boxing, tae kwon do, Greco-Roman and freestyle wrestling.
The researchers were inspired to look at Olympic results after discussing the idea that in nature, the color red is sometimes associated with dominance and testosterone.
Still, some skeptics think the findings may be just a statistical fluke.