GW's Class of 2005: A Lee Family Affair
GW's Class of 2005: A Lee Family Affair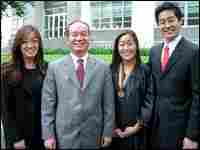 Extra Credit
Simon Lee answers two pertinent questions...
What's it Like Being in School with Your Kids?
This is a big weekend for Simon Lee: His daughter Julie and son Philip are graduating from the George Washington University engineering school with master's degrees in systems engineering. Meanwhile, younger daughter Michelle is collecting a bachelor's in business administration.
Oh, by the way: Simon Lee is getting a degree, too: At age 56. After coming to America in 1979 from South Korea with wife Anna, then building a successful information technology business and raising a family, he returned to school, joining Julie and Philip in the master's program.
The Lee family creed: "You're never too old to learn, you're never too young to teach."
The Lees chatted with Sheilah Kast about their family trip through academia at the dean's suite of the engineering school, recently renamed to reflect a donation from the Lee family.
This story was produced by Jesse Baker.