Story Behind the Picture: Gas in Gustavus
On a recent vacation, Web consultant Subha Subramanian came across this picturesque gas station in Gustavus, Alaska. It's a tiny community, accessible only by air and sea. Here is her "story behind the picture."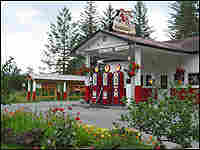 JENNIFER LUDDEN, host:
Over the past few months, we've been asking you to contribute the stories behind your personal photos. This week's entry comes from Shubra Suburmanian(ph).
Ms. SHUBRA SUBURMANIAN (Listener): If all roads lead to Rome, no roads lead to the little community of Gustavus, Alaska, accessible only by air and sea. Time slows down and almost grinds to a halt there. A mere 400-odd people live year-round in this town where people supposedly don't lock their cars. A lazy afternoon's bicycle ride last summer transported me back in time to Gustavus' (unintelligible). This is the picturesque gas station where the original red and white Mobil gas pumps, reminiscent of another era, are still in use. Inside of a convenience store, the gas station is attached to a hardware store and the only petroleum museum in Alaska. Unfortunately, it was closed that day and I could only peer through the window. The gas station also functions as a gift store for those who want souvenirs of their trip to Gustavus. For me there could be no better souvenir of this town than this picture of the gas station. It still brings the memories rushing back.
(Soundbite of music)
LUDDEN: To see the gas station picture, go to our Web site, npr.org. And to submit your story, send us an e-mail at watc@npr.org. Please limit your story to 150 words and put the word `picture' in the subject line.
This is NPR.
NPR transcripts are created on a rush deadline by Verb8tm, Inc., an NPR contractor, and produced using a proprietary transcription process developed with NPR. This text may not be in its final form and may be updated or revised in the future. Accuracy and availability may vary. The authoritative record of NPR's programming is the audio record.