Miyazaki's Magic on Display in 'Moving Castle'
Miyazaki's Magic on Display in 'Moving Castle'
Miyazaki's Earlier Work
Visiting Miyazaki's Studio
'Monsters Inc.' Director Pete Doctor on How Miyazaki Works
Miyazaki's Complex Plots
&nbsp
As described on the movie site imdb.com:
&nbsp
Spirited Away, 2001. In the middle of her family's move to the suburbs, a sullen 10-year-old girl wanders into a world ruled by witches and monsters, where humans are changed into animals.
&nbsp
Princess Mononoke, 1997. On a journey to find the cure for a Tatarigami's curse, Ashitaka finds himself in the middle of a war between the forest and Tataraba, a mining colony.
&nbsp
On Your Mark, 1995. Two men learn that a mysterious winged girl has been taken prisoner, and then decide that they must free her at any cost.
&nbsp
My Neighbor Totoro, 1988. When two girls move to the country to be near their ailing mother, they have adventures with the wonderous forest spirits who live nearby.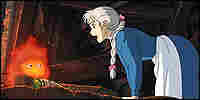 Hayao Miyazaki's main characters are usually children. But the Japanese filmmaker's animated work is also based on complex narratives that reflect on human nature, the environment and war. His latest is Howl's Moving Castle.
Miyazaki takes anime to sophisticated new levels. His past works include Spirited Away, which won an Academy Award in 2003, and Princess Mononoke, an epic adventure that earned Miyazaki much praise from U.S. critics.
Pete Doctor directed the Pixar film Monsters Inc, and helped bring Howl's Moving Castle to the United States. He says the latest Miyazaki work is "akin to having a particularly vivid dream."
Though Miyazaki usually writes his own stories, he based Howl's Moving Castle on a young adult novel by British author Diana Wynne Jones. It tells the story of a girl transformed into a 90-year-old by an antagonistic witch. Howl is a wizard who helps the young heroine.
Miyazaki, whose personal pacifism was shaped by World War II experiences in Japan, describes it as "a movie about running from the reality of participating in war" and "a movie profoundly influenced by real events."
He says children can handle subjects like war... and that, as an artist, he has a responsibility to tell them serious stories.
Related NPR Stories
Web Resources
Books Featured In This Story
Howl's Moving Castle
Paperback, 448 pages |
purchase
Buy Featured Book
Title

Howl's Moving Castle

Author

Diana Wynne Jones
Your purchase helps support NPR programming. How?