Excerpt: 'Mr. George Baker'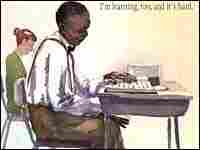 More Recommendations
Get more suggestions from columnist John Kelly.
In this tender picture-book tale recommended by Washington Post columnist John Kelly, first-grader Harry and Mr. George Baker, a 100-year-old jazz drummer, wait for the school bus together. These unlikely friends have something in common: They're both learning to read.
Excerpt: First Pages
See this man? This one here, sitting on the porch?
That's Mr. George Baker, and he's a hundred years old, no kidding.
"Hurry up, Harry! Mr. Harry-in-Charge." That's George, all snappy and happy in the morning. He always calls "Hurry up, Harry" when I'm crossing lawns -- his and mine -- and he's always there first, waiting on the porch.
See his pants, all baggy, baggy, baggy? What holds them up -- suspenders! Brown baggy pants with two side pockets, and two in back. There's candy in those pockets. Little chocolate candies in twisty silver wrappers. George pops one in his mouth and I do too.
We wait on the porch and chew.
Copyright (c) 2004 by Amy Hest. Illustrated by Jon J. Muth. Excerpted with permission from the Candlewick Press.
Books Featured In This Story
School And Library, 1 v. (unpaged) |
purchase
Buy Featured Book
Title

Mr. George Baker

Author

Amy Hest and Jon J. Muth
Your purchase helps support NPR programming. How?