Farm Workers Aim to Enforce Taco Bell Deal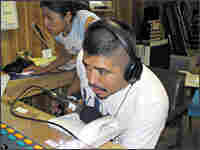 This spring, tomato pickers in Immokalee, Fla., reached an unprecedented agreement with Yum Brands, one of the world's biggest fast-food companies, that raised their wages and called for more worker protections. Now, the challenge is getting word to workers and teaching them about what they've won.
At the moment, farm workers around Immokalee earn about 1.3 cents for every pound of tomatoes they pick. Under the new agreement, farm workers will make 2.3 cents per pound when they pick tomatoes that go to Yum Brand's Taco Bell fast-food chain.
Yum will send the extra pennies to the growers, who are supposed to pass them on to the workers. Since a typical worker picks thousands of pounds of tomatoes per day, those pennies could add up to an extra couple of hundred dollars each week.
But the farm workers' leaders say they might face problems enforcing the agreement. For one thing, many tomato pickers have no idea that they're supposed to get a raise. To raise awareness, the workers' representatives are setting up meetings and using a tiny radio station to spread the word.