Terrence Howard, Going with the 'Flow'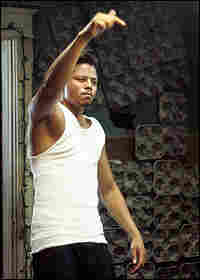 When Terrence Howard talks about his latest film character, he draws parallels to Stallone's Rocky Balboa, and to DeNiro's Travis Bickle, the central character of Taxi Driver. Flawed, odd, working-class types who struggle toward a dream.
More from Terrence Howard
Howard Sings a Song He Wrote
DJay, the protagonist of Hustle & Flow, is a middle-aged pimp with a bit of a midlife crisis. He's taking a long-delayed shot at his real ambition, a career as a rapper. He's done some things that make him difficult to like.
Howard tells Jennifer Ludden that he's hoping audiences will identify with the character, warts and all. He spent nearly two years researching the role, talking with pimps and prostitutes on the streets.
More on 'Hustle & Flow'
The 36-year-old Howard is a familiar face to movie buffs, with roles in well over 30 films, and Hustle & Flow is a hit with most critics. But he's not yet a household name. That could change after a well-received role as a TV director in Crash and his upcoming part in Four Brothers, a film by director John Singleton.