'Over There' Peers into Soldiers' Lives in Iraq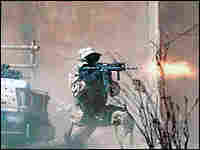 For two years, American TV viewers have watched the real-life drama of the war in Iraq unfold on the evening news. On Wednesday night, a fictional version will debut on cable channel FX.
Preview of 'Over There'
See video clips from the FX series. (Warning: Clips include adult language and situations).
The new drama Over There tells the story of an American army unit stationed in Iraq on its first tour of duty. It's the first series based on a war in progress and is the latest from Emmy-winning TV producer Steven Bochco.
Bochco's credits include NYPD Blue and Hill Street Blues. Like much of his earlier work, Over There provides a gritty, emotional glimpse into the lives of its characters.
Guest:
Steven Bochco, Emmy-winning producer of NYPD Blue, LA. Law and Hill Street Blues; co-creator and executive producer of Over There