Service and Sacrifice at Fort Jackson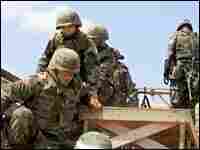 A new crop of soldiers at Fort Jackson in Columbia, S.C., is undergoing basic training. With many facing deployment in Iraq and Afghanistan, the price of freedom is on everyone's mind.
Some of these recruits are fresh out of high school. They have gone from rarely thinking about their government to being living representatives of it — and facing the real possibility of fighting and dying for their country.