This Is the End: Best Movie Death Scenes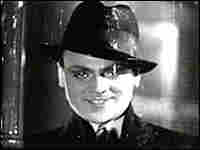 In the final installment of the Summer Movie Awards, film historian Murray Horwitz and listeners zero in on cinematic history's greatest "final farewells."
Among the top picks for best death scene are a number of James Cagney movies, the Wicked Witch of the West in The Wizard of Oz, Braveheart and Buffy the Vampire Slayer.
Guests:
Murray Horwitz, director and chief operating officer of the American Film Institute Silver Theater and Cultural Center in Silver Spring, Md.
David Stork, listener from Portola Valley, Calif.
Heather Frase, listener from Alexandria, Va.
Web Extra: Full Movie List
White Heat
The Roaring Twenties
Angels With Dirty Faces
Throne of Blood
2001: A Space Odyssey
The Sting
It's a Mad, Mad, Mad, Mad World
Yellowbeard
Butch Cassidy and the Sundance Kid
Raiders of the Lost Ark
Cool Hand Luke
Blade Runner
Soylent Green
All That Jazz
Buffy the Vampire Slayer
Bambi
King Kong