Joey Carson, Really, Really Reading a Lot
Joey Carson, Really, Really Reading a Lot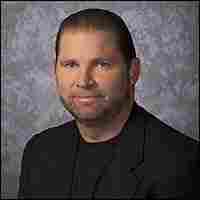 Joey Carson is the CEO of Bunim Murray Productions. The company makes TV shows such as The Scholar, which focuses on high school students competing for scholarship money. The Real World, Bunim Murray's flagship show, is now an adolescent itself at age 16.
Given that background, it may not surprise anyone that Carson enjoys reading about real lives, especially biographies of American political leaders. But he's also partial to science fiction and to works on quantum mechanics.
Joey Carson's List:
His Excellency: George Washington, by Joseph Ellis.
Alexander Hamilton, by Ron Chernow. "It actually had a great amount of material that hadn't really been delved into about Hamilton's birth and upbringing down in the Caribbean. His mother dies and he's left to fend for himself essentially on this frontier. But he makes the most of it and he gets a job working as a clerk for a trading company... and eventually it's these men that he works for that eventually lead him to the United States and through those connections, puts him close to the center of power."
The Elegant Universe and The Fabric of the Cosmos, by Brian Greene. "All of our laws and physics seems to work OK on an everyday basis. But when you really push it to the limits, it starts to not work, and that just fascinates me."
The Ender Wiggin series, by Orson Scott Card.
The Foundation stories by Isaac Asimov. "It's really thought-provoking about space, time and reality. It's also interlaced with politics and relationships."
Family First and Self Matters, by Dr. Phil McGraw.