Affected by Katrina? Listeners Write In
News and Perspective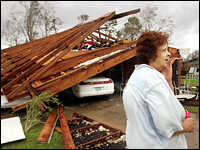 Listeners write in with their reactions to the aftermath of Hurricane Katrina -- how they are coping and putting their lives back together again, as well as their preparations and friends' and loved ones' efforts to move from the path of the powerful hurricane.
Broken Levees, Broken Hearts
When the levees broke, so went our hearts. Our beloved New Orleans, will she ever be the same? Will our collective spirit be able to absorb the funk, soul and mystery that was New Orleans until she is rebuilt? Let us not pass judgment on desperate people. Let us open our arms to the victims and after the sad dirge of grief will come the jaunty jazz march of renewal. God bless New Orleans. God bless us all.
-- John K. Wallace, Beaumont, Texas
Gratefulness and Sadness
I did as I was told for once and evacuated from my home in Jefferson, La., on Sunday morning. I went to central Louisiana to stay with a friend in Pineville…. After two days of being glued to the TV, my friend said, "Enough!" and sent me to help out in a Red Cross shelter. There I met people who were not as lucky as I was. I have insurance. I have friends and family willing to help me start over. I have never been so grateful for all of them as I have been this past week. And while I cried on and off, nothing made me cry as much as when [NPR] played Aaron Neville singing the song "Louisiana 1927." I hope I will see my beautiful New Orleans again, but right now, I think it will never be the same.
-- Marie DiSanti, Jefferson, La.
Chertoff, Homeland Security
I was outraged, to say the least, when during the course of [NPR host] Robert Siegel's interview of [Secretary of Homeland Security] Michael Chertoff, it became apparent he had no idea that some 2,000 people were at the New Orleans Convention Center without food and water, in the midst of floating bodies and rampant violence. Why is it, that with my very limited resources, I knew of the chaos at the Convention Center a full four hours before the interview -- and the Department of Homeland Security did not? Our country's response has been a disgrace. We should all be ashamed.
-- Zack Tippin, New Orleans resident evacuated to Austin, Texas
Will Katrina Change Our Ideas?
This view of government having to be there when we need it but our unwillingness to pay for it has to stop. Katrina blew home the point that while we can take pride in the wealth of America, the nation could be doing a lot more in providing for its citizenry…. Does it bother the "fiscal conservatives" that the divide between rich and poor in America is notable compared to our peer countries? One look at the news coverage of Hurricane Katrina and only a blind man would miss the point of a major racial divide and a link to poverty….
Before Hurricane Katrina, I disagreed with -- but respected -- the view of less government. Now, I see the tangible and horrific consequences of a nation that has swung too far in avoiding collective responsibility in favor of individual responsibility. There is a balance that must be achieved. A nation should not and cannot be provider of everything to every person, but this country, great in so many other ways, should have been able to save many of those lives lost to this tragedy. No one person or agency has failed us. Our own idea of government is what has failed us. Now is the time, while the winds have turned people around, to commit to the notion of government as providing more of what we need and to manifest the culture of collective responsibility in paying for it. We can still be a country of rugged individualism and limitless possibilities for success, but we will also have the right to life, liberty and the pursuit of happiness that was so evidently denied to many Americans this past week.
-- Scott M. Solkoff, Boynton Beach, Fla.
Married in New Orleans
My husband and I were married in New Orleans on May 28, 2005. We chose New Orleans because of its history and beauty. We wanted to be a part of that history and we wanted the city to be a part of our lives together. The loss of human life is overwhelming. I am also mourning over the loss of the most historically significant city in our country.
-- Jennifer Ginter-Lyght, Platteville, Iowa
Waiting It Out in a Hotel
What started out as a present to our 16-year old daughter, Diana, turned into devastation. We had originally planned a trip to West Palm Beach, Fla., last week but made a quick change of plans when we heard that tropical storm Katrina was heading from the Bahamas. Suddenly we had plans to visit New Orleans! Diana invited her friend, Krista, and my husband and I booked a flight out on Thursday night.... By Sunday morning things outside were looking very different.... We went to the nearest Walgreens and bought gallons of water and two flashlights. My husband walked into a bar that was closing and got about 50 empty cups, which he later filled with clean tap water and we kept on the bathroom counter....
The night was harrowing. We had two rooms next to each other but not connecting -- the two girls in one, my husband and I in the corner room.... In the middle of the night, the phone rang. It was my daughter. She was trembling with fear. I spent the rest of the night in her bed.
...The power went out at about 4 a.m. and then everything became quiet -- and no air.... At 6:30 a.m. there was an announcement to come to the lobby for a box breakfast.... But we had to return to our rooms to eat it and then wait for the storm.... The wind blew ferociously. Then a bang. Then a scream from next door. The shutters were all coming loose outside the windows and, one by one, the windows were shattered by the constant battering. Ours was one of the last. I screamed. Krista jumped up and ran out of the room and we followed. The chef, Michael, came from his room across the hall (with his daughter attached to him) and helped us move the girls into a different room down the hall on the other side of the building.
OK -- now we were secure and just waited. And it actually was not much longer. The rain was teeming down but the wind was less.
We inspected our corner room. No glass, but the rug was soaked. We moved into a room across the hall. We moved the fifty cups that we had filled with clean tap water.... Finally we could sleep, and that we did. It was very hot but we were very tired.
The announcement in the morning was for breakfast in the lobby.... Chris (who had a wind up portable radio which broadcast the only news station) told us that the levee had broken. This didn't look good.
...There was talk about the National Guard coming with trucks. I wanted to be ready. We dragged the two suitcases down six floors to the lobby.
...They were also arranging for two buses to take us to Houston. Security clearance had been granted for us by the Lieutenant Governor of the State of Louisiana, but only after all the medical emergencies had been taken care of. There would be room for 98 people, first come, first served. $90 each. We signed up!
Security cars led us out. The suspension on the bus was shot and there were a lot of holes. We were traveling over glass and through flooded streets, but soon we found the interstate and then drove and drove and drove. Some people slept. I cried. The air conditioning was cold. We got to Houston at about 6:30 a.m. We were safe.
Now back in New Jersey we are contemplative, at best. This is the only real disaster we have ever personally felt, but it makes us wonder how we could have missed all the others. How will these people survive? What will become of New Orleans? Such a tragedy... please help these poor people....
-- Lynn Vassar, Glen Ridge, N.J.
A Note from Iraq
What can a soldier in Iraq do to help those in need some 10,000 miles away? This is the question I posed myself, having friends and relatives all throughout Hurricane Katrina's path of destruction while I am 10,000 miles away in the middle of the Iraqi desert and can do little if anything to help. Those friends and family members that did not evacuate are old hands at this game, but still, it does nothing to quell the fear that the worst has possibly happened. All I get from the standard news outlets is doom and gloom... all I get from online is doom and gloom. Amid all this doom and gloom I do however see one commonality... the powers that be at the local, state and federal levels bickering, complaining, playing the blame game, or playing the "who's in charge" game. From 10,000 miles away this is my perception... I can only imagine the perception of the people of New Orleans.
-- Sgt. Phillip R. Slocum II, Tikrit, Iraq
'No One Taking Action'
Since Monday I have watched the city that gave me birth dying a slow death and no one taking action. The levy breach was not unexpected. We have feared it our whole lives. I find it hard to believe that with the most advanced millitary on Earth, they couldn't find a way to drop water onto an overpass full of children suffering from dehydration.
-- Bridgett Hurley, Richmond, Va.
A New Hometown Destroyed
My husband, child and I moved to Long Beach, Miss., one month ago, not by choice, because my husband's job required him to. My husband was a maintenance supervisor of an [apartment] complex located on the beach.... During our first days there, all of our neighbors introduced themselves to us, told us where the local farmers market and flea markets were, became our friends. I realized my first week living in Long Beach that this was a unique town. Everyone knew each other, everyone was friendly. In the short time we lived there before the hurricane we really thought of it as home. [When Katrina approached] we made a quick decision to go to Birmingham for the weekend just in case... Tuesday we saw on the news that the entire complex was completely destroyed. I have to say it's not just our "stuff" that's gone. It's our neighborhood. The most charming towns I have ever encountered in my life, now reduced to pure means of survival. To any of our neighbors reading this, we miss you. We hope you're okay. We are grateful not just to have our lives and family, but to have our beautiful memories of Long Beach, Miss.
-- Misty Greene, Long Beach, Miss.
Solace and Sadness in Hope
My husband's family called to tell us Sunday that they were leaving their home in New Orleans and heading to us here in Hope, Ark. We watched the hurricane on the weather channel while waiting for them to arrive. Around 11 p.m. it hit me that this family was coming to us with everything they would have left and that they would have no home to return to. It was a terrible feeling knowing that we knew this before they did. I thank God our family made it here safe, but cannot describe the heart felt sympathy I feel for each victim. Our prayers and thoughts are with each of you!
-- Amanda Medlock, Hope, Ark.
Communication in New Orleans
Although voice communication is down for most New Orleans area mobile phone users, text messaging is apparently working. I have had success contacting several friends and family that way.
-- Trey Hargrove, Dallas
Celebrating Micro Miracles
As a survivor of the outskirts of Hurricane Katrina, right now, this is what I know:
-- that in Baton Rouge, La., the winds hit 110 miles per hour, and the hummingbirds navigated this wind, which picked up 200 ton blocks of concrete in Mississippi, like a breeze;
-- that a tree frog successfully rode out the storm on the leeward side of a Mexican fan palm that battered our dining room window;
-- that though the wind thrashed the web of a writing spider and her egg sac, all three sailed through the storm without damage.
I am in awe of these micro miracles in the face of such macro devastation: trees down, power lines live, flooding, storm surge and death, even in our fair city. My mother evacuated here from Long Beach, Miss. We hope that she has a house to return to. We count our blessings for our friends and family who made it safely through the storm. We send our blessings to all the people we can't reach and the devastation we can't see.
-- Marybeth Lima, Baton Rouge, La.
Humbling Images from the Storm
By this time, I expect that many people are having "disaster fatigue" or whatever the word is for being over-saturated by images of Hurricane Katrina. However, I am not one of those people. I have yet to see any TV images because I still do not have any power or phone….
[But] what I do have images of is quite amazing, and even more humbling. As the last of the winds and rains were passing at dusk, I saw many ruby-throated hummingbirds coming to visit flowers in our garden. Both had made it through the hurricane. I saw leaves suspended in exquisite webs woven by orb-weaver spiders. The spiders were already back mending and cleaning out the debris. Most miraculous of all, I saw a black swallowtail and sulfur butterflies feeding on the flowers along our street.
These things, which seem so delicate, are still alive and going about their business as though nothing has happened. In fact, I suspect that to them, nothing has happened. They are so well adapted to life here, which can go from lush sub-tropical to deadly in a day. They survive better by hiding in natural cavities than we do in our high-rise hotels. Their hiding places did not have their windows blown out or fill with water. They are immune to our waterborne disease, and the wickedness of looters.
As the university where I work fills with refugees from "urban civilization," I have to wonder who is more civilized, we humans or these fragile beauties, who go along at peace with nature instead of trying to control it? We could learn a lot I think, but we have to take the time to look.
-- Catherine Cummins, St. Gabriel, La.
Fighting Feelings of Disconnectedness
Sunday morning I evacuated to northern St. Tammany Parish. Because of the growing intensity of Hurricane Katrina, I moved to Starkville, Miss., where I rode out Katrina with only a few flickers of the lights.
On Tuesday, I began to feel what Durkheim referred to as "anomie." I was unable to connect with my son, Fred, who had evacuated to Lafayette, nor any of my friends with cell phones in area codes 504 or 985. To address the feeling of total isolation and near hopelessness, I decided to head north and connect with family. I'm now in Cleveland, Ohio, with my sister. I'll eventually wander to Washington, D.C., and spend time with my brother until I can get to New Orleans.
I just made phone contact with my son, and he has seen photos of a Rite Aid a few blocks from our house that had water to the rooftop. We have no idea about our house and "stuff." The feeling of disconnectedness is, at times, overwhelming. I have no idea about the status of the University of New Orleans, our students and my colleagues.
Thanks for the fragments of information. They are important to me and to all New Orleanians.
-- Dennis R. McSeveney, New Orleans
The Power to Rebuild
[I]n looking at the material signs of this devastation, we should all, those of us of sound mind and body, be grateful we are alive and well. Houses can be replaced and material loss, while tragic, should not make us grieve too deeply. Lives can be rebuilt from this, and the great and beautiful city of New Orleans that I know and love and where I have a home will survive and be rebuilt….
Like many of you out there, I watch with tears in my eyes what has befallen the people of the Gulf Coast and I think, how lucky I am, and ask, what can I do to help? As soon as the city reopens I plan to be there to help rebuild not just my own home but also those of my neighbors. I know I'm not alone in this sentiment.
In closing, let me remind myself once more, that great things will come from this. People will rise to the challenge and the sense of togetherness, and the pride that the people of New Orleans have always had in their city will resurrect itself, stronger and more lasting than ever.
-- Michael Langlois, Miami