Something Else That Was Lost in New Orleans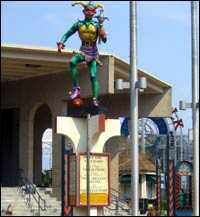 More from Johnny White's:
The reporting on Hurricane Katrina's aftermath has focused on the many people who were affected by it. That's as it should be. It will be weeks before we begin to understand how many lives were lost. In the first days after the storm, estimates of thousands of deaths seemed hyperbolic. Now they're expected.
But I worry that along with untold lives, there may have been something else lost when Katrina devastated New Orleans -- something less tangible, but also precious in its own way.
It's often been remarked that New Orleans is not truly an American city, but a Caribbean one. Even the casual visitor knows how different it appears from anything else in the United States. The city's architecture, its design, the people and civic culture are all distinct to New Orleans -- and unlike those found in any other American city.
I've heard folklorists and commentators attribute this to the city's history -- first a Spanish settlement, then French, and finally American. Also, people of many races and ethnicities lived side-by-side in many neighborhoods. Black, Italian, Irish, French, Cajun, Creole, Honduran -- those cultural ingredients and many more were mixed together in the big stew that is, or was, New Orleans.
The great pianist and composer Jelly Roll Morton -- one of many in a long line of New Orleans musicians -- often claimed to have invented jazz. History does not necessarily bear him out. But the first jazz recording released was not by Jelly Roll, Louis Armstrong, Kid Ory or any of the great African-American musicians we associate with New Orleans jazz. It was done in 1917 by the Original Dixieland Jazz Band, a group of white musicians.
Still, it's clear the Original Dixieland Jazz Band was influenced by black musicians. And that cross-pollination speaks to one of New Orleans' contributions to American life. From the earliest days, when enslaved African Americans gathered and made music on Congo Square, through the darkest days of Jim Crow, New Orleans had a reputation as a place where people of different races and backgrounds... mixed. Especially during the first half of the last century, there was an atmosphere of tolerance in New Orleans, unlike any found elsewhere else in the South. Danny Barker, the great jazz guitarist, said many jazz musicians were afraid to tour outside of New Orleans back in the '20s and '30s. For them, going across the state line into Mississippi was like going to another country. So they stayed home and created one of this country's greatest indigenous art forms -- jazz.
But jazz is just the most obvious way in which New Orleans is deep in the soul of America. Long before Emeril Lagasse or Paul Prudhomme called it home, New Orleans taught us not just how to prepare wonderful dishes, but also how to enjoy them. Again, it's about the blending of cultures. I love beignets, gumbo and crawfish etouffee, but my favorite New Orleans food is the muffaletta, that wonderful sandwich with cheese, salami, cappicola and olive salad that could only have been invented by an Italian -- or at least with one close by.
You can hear the blending in the way people talk. There are so many different accents there, even the people who live in New Orleans have trouble understanding one another. The way people talk in the Irish channel neighborhood -- many swear it sounds like a Bronx accent -- is different than the way they talk in the Ninth Ward, Gentilly, or other neighborhoods. You see it in the Mardi Gras Indians and African-American carnival troops, whose costumes pay homage to the area's first settlers. It's in the shotgun houses, in the French Quarter, out on St. Charles Avenue in the Garden District.
When I left New Orleans, nine days after the hurricane struck, water and power were already coming back on in some parts of the city. Despite dire predictions, I'm confident New Orleans is going to be rebuilt sooner than many expect.
Some of the first neighborhoods restored will be the areas most visited by tourists. One reason that the French Quarter and the Garden District emerged from Katrina relatively unscathed is that they're on high ground. Before Katrina, those neighborhoods weathered many other hurricanes, and undoubtedly will do so again.
The biggest questions surround the Ninth Ward, a large section of middle-class housing, much of which was totally flooded. There's already talk of razing the neighborhood and rebuilding. Gentrification looms over the horizon. Except for a few holdouts, the people who lived there are all gone now -- living with friends and relatives, maybe in shelters, maybe the Houston Astrodome.
I don't worry about the French Quarter. I worry about New Orleans' neighborhoods -- and whether the places that created jazz and the muffaletta will ever come back.
A few days after the hurricane, I was riding on the "Iberville," a ferry that was pressed into service carrying evacuees from their flooded homes to dry land and waiting buses across the river on Algiers Point. I asked one young man on the ferry about himself -- how long he'd been stranded, how he got out. He only wanted to talk about the city and what he worried may have been washed away by Katrina's floodwaters. "Man... New Orleans," he said, shaking his head. "We can't lose this. This is the spice that flavors America."
Greg Allen reported on Hurricane Katrina and its aftermath from New Orleans and Baton Rouge. He's been fascinated by New Orleans' culture since 1988. That's when he and his wife -- Maeve McGoran, a Morning Edition editor -- produced a radio documentary exploring the origins of the city's culture.