Border Town at Center of Smuggling Crisis
New Mexico's Gov. Bill Richardson declared a state of emergency along the border in August, citing escalating violence stemming from drug and human smuggling. Carrie Kahn visited the New Mexico border and profiles a small town on the front lines of the border war.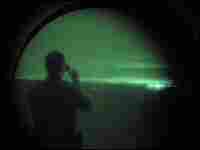 MELISSA BLOCK, host:
From NPR News, this is ALL THINGS CONSIDERED. I'm Melissa Block.
ROBERT SIEGEL, host:
And I'm Robert Siegel.
In New Mexico illegal immigration is on the rise. Tougher border enforcement in neighboring Arizona and Texas appears to be driving some of that traffic. Last month New Mexico Governor Bill Richardson freed up nearly $2 million to counter the influx by declaring a state of emergency along the border. NPR's Carrie Kahn visited one border town that is eagerly awaiting the help.
CARRIE KAHN reporting:
It's 3 in the afternoon, about 100 degrees outside. Kirk Sajak(ph) cranks his air conditioning. He's driving down a dirt road along his 5,000-acre Chilean cotton farm outside Columbus, New Mexico.
Mr. KIRK SAJAK (Farmer, New Mexico): There's three wets crossing right there.
KAHN: He's pointing at some men who just hopped the scraggly barbed wire border fence.
Mr. SAJAK: We call them wetbacks because they say--you know, when they cross the Rio Grande, they get wet. So--well, let's see if we can get ahold of the Border Patrol in Columbus (laughs).
(Soundbite of beeping; dial tone)
KAHN: Sajak doesn't seem too upset about the trespassers.
(Soundbite of phone ringing)
KAHN: What gets him, though, is how overwhelmed the Border Patrol has become. He says lately they don't even respond when he calls in a sighting.
Mr. SAJAK: See what I mean? No answer.
KAHN: Border Patrol agents caught almost 70,000 illegal immigrants last year along New Mexico's border; that's 20,000 more than just two years ago. And it's no secret the Border Patrol is outnumbered these days.
Agent ANDY CRAIG (US Border Patrol): (Spanish spoken)
KAHN: Out patrolling alone, Agent Andy Craig shouts at a group of 18 illegal crossers crouched in the bushes.
Agent CRAIG: (Spanish spoken)
KAHN: He says a few shouts can trick a group into thinking they're the ones outnumbered and get them running back into Mexico. For security reasons, Border Patrol officials won't say exactly how many agents patrol this 15-mile sector surrounding Columbus.
Unidentified Dispatcher: Alert three.
KAHN: But at patrol headquarters, where dispatchers watch night cameras and monitor sensors set up along the border, it's clear this night only a handful of agents are tackling about 200 crossers. Staffing levels aren't as secret at the Columbus Police Department. Chief Clare May sits alone in his rented storefront office.
Chief CLARE MAY (Columbus Police Department): Right now you're looking at the entire police staff. That's all you got right now. That's it locally.
KAHN: He says he's never been so busy. Last month he responded to nearly 150 calls. He says with the increased illegal traffic through town, he's seen more cars being stolen and houses broken into. A few weeks ago he was even shot at. But May says relief appears to be on the way.
Chief MAY: So far I see the governor stepping up to the plate, and I'm hoping some of the money that he set aside will be channeled to the police department here locally to enhance my abilities.
KAHN: Those resources for now are just two full-time state troopers. But not all locals feel under siege.
(Soundbite of doorbell ringing)
KAHN: At the Patio Cafe, Marilyn Stefan(ph) comes in from the heat. She says she doesn't see why everyone is fussing about the illegals.
Ms. MARILYN STEFAN (Columbus, New Mexico): Well, I don't have any problem with any of the people. You know, they're all God's children, and I haven't got a problem.
KAHN: And Stefan says Columbus doesn't need help from groups like the Minutemen, who've been making plans to set up their citizen patrols around town next month.
Around the corner, sitting in Columbus' tiny museum, self-proclaimed town historian Angel Barunda(ph) likes to draw a comparison between today's battle over illegal immigration and Columbus' most famous moment, when Mexican revolutionary fighter Pancho Villa raided the town in 1916.
Do you really think it's another invasion?
Mr. ANGEL BARUNDA (Town Historian): I believe it. I believe it, too, because they're not guarding the borders. And I know a lot of illegals come in to work but not all of them, you know.
KAHN: Barunda says he doesn't blame the immigrants for coming, but he says he wishes the Border Patrol could do what the US military did nearly a century ago when it chased Villa back into Mexico. Carrie Kahn, NPR News.
NPR transcripts are created on a rush deadline by Verb8tm, Inc., an NPR contractor, and produced using a proprietary transcription process developed with NPR. This text may not be in its final form and may be updated or revised in the future. Accuracy and availability may vary. The authoritative record of NPR's programming is the audio record.