The Thrill Is Strong for 80-Year-Old B.B. King
The Thrill Is Strong for 80-Year-Old B.B. King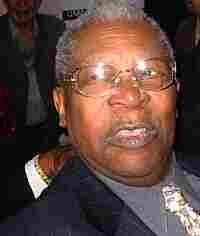 B.B. King Plays
Hear the blues guitar legend play at his own birthday party:
Every Day I Have the Blues
Friends Pay Tribute
Gladys Knight and her brother Bubba perform a medly of songs:
'You Got a Friend/You're the Best Thing that Ever Happened to Me'
"The Thrill is Gone" may be one of B.B. King's best-known songs -- but fans of the legendary bluesman, who just turned 80 years old, say their thrill is strong.
King has a new CD and book about his life out this month, and continues to tour with his band, playing to crowds across the globe. Friends and family gathered at a Southern California home recently to celebrate King's birthday with backyard concert that featured performances from some of his oldest and dearest friends.
Chicago's Buddy Guy, a blues legend in his own right, gave an electrifying performance. Gladys Knight, who calls B.B. King "Uncle B.B.," joined with her brother Merald "Bubba" Knight -- one of the Pips -- to sing a tribute.
Actress and singer Della Reese was there, too. She once performed with King in the segregated jazz clubs of the 1940s and '50s, and calls his brand of the blues an "answer to sadness."
The party doubled as a fundraiser for the B.B. King Museum in the musician's hometown of Indianola, Miss. Hosts of the birthday bash, King's old friends William and Mary Haskell, are also organizing "Mississippi Rising" -- a benefit concert to aid victims of Hurricane Katrina.