Complaints Dog FEMA in Gulf Region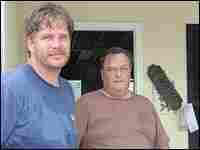 The Federal Emergency Management Agency cites progress in providing housing and aid to hundreds of thousands of people in Louisiana and Mississippi. But complaints persist about red tape and confusion.
Atlas Brown says he has waited ten days at a friend's home in Biloxi, Miss., for a FEMA representative to inspect the property. One person did come by, but wasn't much help, Brown says. Until the house is checked, Brown's friend — who is in Tennessee — can't get money to clean or rebuild.
Five miles away, retiree Jerry Grimes shows an application he filled out for FEMA on Sept. 1, after Katrina destroyed most of his home. He was supposed to get an answer in ten days. A month later, no reply.
Throughout the Gulf region, tens of thousands of hurricane victims are in a similar state. Many say they understand the disaster is unprecednted, that they might have to be patient. But they're also confused about what they're supposed to do — and when help will arrive.
In Houma, La., local officials say things have improved in the past week. A FEMA disaster recovery center is scheduled to open on Monday. And efforts are being made to find more permanent housing here and elsewhere, in trailers and mobile homes.
But as of Friday, only about 3,500 families had been placed in trailers or mobile homes throughout the Gulf region. A FEMA spokeswoman says things are going more slowly than the agency would like, but that it's complicated working with local and state officials to find suitable sites. She says FEMA approved cash rental assistance this week for 334,000 households.