Studs Terkel, Adventures of an Eclectic Disc Jockey
Studs Terkel, Adventures of an Eclectic Disc Jockey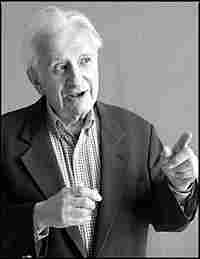 Celebrated broadcaster Studs Terkel has interviewed some of the world's most familiar musicians. In his latest book, And They All Sang: Adventures of an Eclectic Disc Jockey, he's collected interviews with Bob Dylan, Louis Armstrong, Ravi Shankar and others that reflect his diverse taste in music.
For 45 years, Terkel's weekly music program, The Wax Museum, allowed him to play whatever he wanted -- from opera to jazz to folk -- an eclectic mix that reflected no one's taste but his own.
He went on to become well-known for his oral histories of everyday life and the unsung hero. Terkel chronicled the trials and tribulations of ordinary men and women in his book, Working, and their hopes and disappointments in American Dreams: Lost and Found.
Guest:
Studs Terkel, radio broadcaster and oral historian; Terkel is the author of many books including Working and the Pulitzer Prize-winning The Good War.
Books Featured In This Story
Adventures of an Eclectic Disc Jockey
Hardcover, 301 pages |
purchase
Buy Featured Book
Title

And They All Sang

Subtitle

Adventures of an Eclectic Disc Jockey

Author

Studs Terkel
Your purchase helps support NPR programming. How?