The Nobel Peace Prize and its Past Winners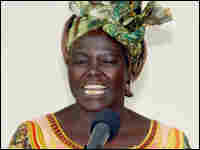 In his last will and testament, Norwegian industrialist Alfred Nobel instructed his estate's executors to bestow a cash prize "to the person who shall have done the most or the best work for fraternity between the nations, for the abolition or reduction of standing armies and for the holding and promotion of peace congresses."
In 110 years since, the Norwegian Nobel Committee has awarded the Peace Prize to 113 recipients, from President Woodrow Wilson for his work to create the League of Nations to chemist Linus Pauling for his efforts to stop nuclear arms proliferation, and to U.S. Secretary of State Henry Kissinger and North Vietnam's Le Duc Tho for negotiating the end of the Vietnam War.
In recent years, however, the criteria for who should win has broadened somewhat, according to Ole Danbolt Mjoes, chairman of the Norwegian Nobel Committee. In fact, Mjoes recently told the Washington Post that work on arms control and arranging peace conferences is now "out of style," and that a new criterion has gained favor: "It is about how we live together, share resources ... about preserving the Earth." Mjoes also pointed to another growing trend in awarding the Peace Prize: more women. (Only 12 of 113 recipients are female.)
To that end, the committee most recently awarded the 2004 Peace Prize to African environmentalist Wangari Maathai, and Mjoes said there likely will be more like her in the future. Yet as Friday's 2005 award announcement of Mohamed ElBaradei and the International Atomic Energy Agency shows, Alfred Nobel's original anti-war ideal remains a central criteria in awarding the prize.
A list of recent winners of the Nobel Peace Prize and what they've done since winning the award:
2004: Wangari Maathai
Lauded by the Nobel committee for "her contribution to sustainable development, democracy and peace," Maathai was both the first African woman to win the Nobel Peace Prize, as well as the first environmentalist to do so. Her Green Belt Movement has planted more than 30 million trees in her native Kenya, a project she originally began to create a greater supply of firewood for cooking.
She was recently elected to Kenya's parliament by an overwhelming 98 percent majority and was named the assistant minister for environment, natural resources and wildlife. Widespread praise for her and her work was undermined, however, after she was reported last year as saying that AIDS was purposely created to "punish blacks," a claim that she has since said was misinterpreted.
2003: Shirin Ebadi
Iranian human rights lawyer Shirin Ebadi was the first Muslim woman to win the Nobel Peace Prize. A long-time advocate for the rights of women and children in Muslim society, she has frequently come into conflict with Iran's religious clerics and once spent 23 days in solitary confinement for criticizing the country's leaders. In awarding her the Peace Prize, the Nobel committee cited the fact that she "never heeded the threat to her own safety."
She has repeatedly defended political dissidents, some of whom have suffered grisly fates. Since winning the prize, she has worked to uncover the truth behind the death Zahri Kazemi, a photojournalist who died under mysterious circumstances in a Tehran prison. Most recently, in July of 2005, she came to the defense of a fellow attorney who was imprisoned on espionage charges in the midst of his own work to defend 10 people accused of spying on Iran's nuclear program for Israel. "Lawyers should not be charged with the same crimes as their clients," she told Agence France-Presse. "Trials related to political charges are not in accordance with human rights."
2002: Jimmy Carter
The third U.S. President to win the Nobel Peace Prize, Jimmy Carter was applauded by the award committee "for his decades of untiring effort to find peaceful solutions to international conflicts, to advance democracy and human rights, and to promote economic and social development." Perhaps his greatest achievement for peace was his effort to negotiate the Camp David Accords, which brokered a peace accord between Israel and Egypt.
Indeed, the landmark agreement -- the first between Israel and its Arab opponents -- was enough to guarantee a Peace Prize to Egypt's president, Mohamed Anwar al-Sadat and Israeli prime minister Menachem Begin, who shared the prize in 1978.
Since leaving office, Carter's peace efforts have been focused through his non-profit Carter Center, which is committed to "advancing human rights and alleviating unnecessary human suffering." Carter has taken particular interest in the effort to ensure "free and fair" elections in countries around the world, most recently observing the election for the president of the Palestinian Authority.
2001: Kofi Annan
In bestowing the Nobel Peace Prize on United Nations Secretary-General Kofi Annan, the award committee's chairman, Gunnar Berge, likened him to another past Peace Prize winner, President Woodrow Wilson, who helped found the League of Nations but ironically failed to convince his own countrymen to join.
For his part, Annan, a career U.N. diplomat and the scion of a family of Ghanaian chieftains, has had a far better track record of success. Said Berge, "No one has done more than Kofi Annan to revitalize the U.N.," including his efforts to resolve a seemingly endless series of international conflicts: "The wars in the former Yugoslavia and especially in Kosovo, the status of East Timor, the war in the Congo, and the implementation of the U.N. resolutions concerning the Middle East and 'land for peace.'" He has championed the effort to combat AIDS in Africa and continues to steer the United Nations to uphold human rights in some of the most violent parts of the world.
2000: Kim Dae-jung
After enduring repeated arrests, assassination attempts and even a death sentence under the dictatorship of his native South Korea, political-dissident-turned-president Kim Dae-jung was awarded the Nobel Peace Prize "for his work for democracy and human rights in South Korea ... and for peace and reconciliation with North Korea in particular," according to the awards committee.
He has sometimes been called Asia's Nelson Mandela, the South African leader and Nobel laureate who also languished in prison before rising to power. After becoming president in 1997, Kim Dae-jung was criticized by some for his "sunshine policy" of appeasement toward North Korea and his overtures to North Korean leader Kim Jong-il. Kim Dae-jung's historic visit to North Korea's capital in 2000 created a temporary opening for improved diplomatic and cultural ties.
But North Korea's failure to follow through on its pledges damaged him politically. He left office in 2003 amid accusations that his famous trip may, in fact, have been a case of checkbook diplomacy, thanks to an illicit payment $186 million to North Korea.