Petitioners Race to Beat Stricter Bankruptcy Law
Courts around the country are busy with people rushing to beat a tougher bankruptcy law that goes into effect Monday. Lines are stretching outside courthouses, and since many bankruptcy attorneys stopped taking new clients, many people are representing themselves in proceedings.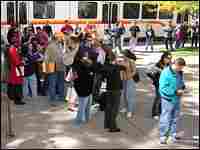 ROBERT SIEGEL, host:
From NPR News, this is ALL THINGS CONSIDERED. I'm Robert Siegel.
MICHELE NORRIS, host:
And I'm Michele Norris.
Around the country today, federal courthouses were busy. They were crowded with people waiting to file for bankruptcy. A new law goes into effect on Monday. People will still be able to file for bankruptcy, but they'll have to clear a few more hurdles first. In Denver, the lines started before dawn, and NPR's Jeff Brady stopped by a few hours later.
(Soundbite of church bells)
JEFF BRADY reporting:
Downtown church bells signal the noon hour in front of the federal courthouse in Denver where a line of people holding manilla envelopes wound halfway around the block. Tonya Smith was near the front. She's filling a Chapter 7 bankruptcy. She wants to erase about $20,000 in debt.
Ms. TONYA SMITH: I just have some back bills, medical, owe credit cards. Just want to get rid of them before the new law kicks in.
BRADY: Smith owns a small clothing store in Denver and says she made some bad decisions in her late teens and early 20s, but now she'd like to turn her business into a profitable enterprise.
Ms. SMITH: I would like to keep it up and running. I would like to keep it going. But with the bankruptcy--with the debt on my hands, the bankruptcy would help. That way I could do more things for my store and for my customers.
BRADY: One of the most significant changes under the law is that people who earn above-average incomes may not be eligible to erase all their debt. Smith earns about $30,000 a year; that's below the median in Denver, so she could still file for a Chapter 7 bankruptcy after Monday. But she has other reasons for doing it now.
Ms. SMITH: Just to get it out of the way, just so that I don't have to go through a lot of red tape after Monday. There's no red tape today. You just file it and it's done.
BRADY: There is a downside to filing bankruptcy, though. It will be difficult for Smith to get a bank loan or a mortgage for at least a few years. Smith and her fellow debtors are going ahead anyway. After Monday, it'll be more expensive to file bankruptcy and they'll have to file more paperwork, including six months of income and expenses. Smith says she doesn't want to go through the credit counseling that will be required.
Ms. SMITH: They ask you a bunch of questions. You gotta do a credit class, you just gotta do a bunch of stuff that I don't think I want to do.
BRADY: Smith is not alone. Across the country, bankruptcy filing numbers are surpassing previous records. The California firm Lundquist Consulting tracks personal bankruptcy filings. They predict more than 200,000 people will file this week across the country. The company says typically about 30,000 file bankruptcy in an average week. Jeff Brady, NPR News, Denver.
NPR transcripts are created on a rush deadline by Verb8tm, Inc., an NPR contractor, and produced using a proprietary transcription process developed with NPR. This text may not be in its final form and may be updated or revised in the future. Accuracy and availability may vary. The authoritative record of NPR's programming is the audio record.