Run-D.M.C.'s Reverend Run Goes Solo
Run-D.M.C.'s Reverend Run Goes Solo
Farai Chideya talks with Reverend Run aka Rev Run, formerly of the rap trio Run-D.M.C. He's back with his first solo CD, Distortion, and his own reality show on MTV, Run's House.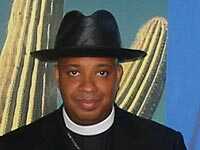 ED GORDON, host:
A rap music legend is making big moves on the small screen and is cashing in on the popularity of reality television. NPR's Farai Chideya takes us to Reverend Run's world.
(Soundbite of "It's Like That")
RUN-DMC (Rap Group): (Singing) Unemployment at a record high. People coming, people going, people born to die.
FARAI CHIDEYA reporting:
The year is 1983. The rap trio Run-DMC releases their first single, "It's Like That."
(Soundbite of "It's Like That")
RUN-DMC: (Singing) People in the world trying to make ends meet. You try to ride car, train, bus, or feet.
CHIDEYA: The fresh, abrasive rock, rap and roll combination brings new commercial freedom for rap music and takes the genre from the streets to mainstream America. Flash forward 22 years. Run has become the Reverend Run. He's back with his first-ever solo CD project, "Distortion," and his own reality show on MTV, "Run's House." He joins us here in our studios at NPR West.
Welcome, Reverend Run.
Reverend RUN (Recording Artist; "Run's House"): Well, thank you. I'm happy to be here.
CHIDEYA: So just tell us first about what it's like to be a reverend. You know, I have followed your career for many years, been a big fan. When did you make this decision?
Rev. RUN: It wasn't a decision to become a reverend. It was just going through a lot of stuff and just going to church. I just started going to church because I wanted to get my life organized. And first I became, like, an usher. In the Pentecostal church they have duties for you to do, different things, and I just--next thing you know, this collar was wrapped around my neck. I just was, you know, obedient in following God. I don't think you really choose to become a reverend. I think it kind of chooses you.
CHIDEYA: Of course, one of the pillars of your group was Jam Master Jay, you're deejay. He was killed in Queens at a recording studio in October of 2002. What does it mean not to have him in your life anymore?
Rev. RUN: My faith allowed me to deal with it because I realized that this isn't the only body you have. This isn't the real you, this body. This is just an Earth suit. And Jay did a wonderful job here on the Earth to bring deejaying to a certain level, and I kind of think that--you know, I likened it to taking a test. We all still have the No. 2 pencils in our hand. And he kind of put his down. He passed the test and he did what he had to do. And he left a legacy behind.
CHIDEYA: Did you ever expect that someone you knew so personally would be caught in some of the violence that still hip-hop hasn't shaken?
Rev. RUN: I'm so deeply rooted in God and in the church, I really didn't look at it like that. I'm very spiritual. So I think of the last lyrics on the record "Peter Piper": `And like all fairy tales end, you'll see Jay again, my friend.' I feel for his wife and his kids, but on the other hand, I know that God has a purpose. I don't really get caught up too much in `Why, why, why, God?'
CHIDEYA: Let's turn to your reality show, "Run's House." The early buzz on this show is phenomenal. We are hearing that people are really entranced with it, in part because it shows a functional family vs. a dysfunctional family. What is like to make good reality TV about a functional family? Do you consider your family a functional family?
Rev. RUN: I think we're functional-dysfunctional, but, you know--but you'll see the love in my heart for my wife, the love in my heart for my children. And you'll see me trying to make everything perfect the best way I can. And then it gets funny there because it's not going to work out like that always. But this is my family. This is my life. You're looking at it on camera. If I have a dispute with my son, I can't have it until they say so when they're there. Like, `OK, you have a dispute with your son? Have it at 3:00 when the lights and the cameras are set up.'
(Soundbite of "Run's House")
Rev. RUN: What should I tell Mommy that we talked about?
Unidentified Boy: What does she want us to talk about?
Rev. RUN: She wants to talk about girls.
Unidentified Boy: For what?
Rev. RUN: Have you kissed one? Keep it funky, dig.
Unidentified Boy: Nope.
Rev. RUN: I gave you some money the other day. Who was you buying something for? What did you buy?
Unidentified Boy: Nothing!
Rev. RUN: Keep it real. You don't want nobody to know, right?
Unidentified Boy: No.
Rev. RUN: Got you!
Unidentified Boy: Wait, nothing! It's nothing!
Rev. RUN: Is she your homegirl?
Unidentified Boy: It's done with. It doesn't matter.
Rev. RUN: You cut her off? What do you want me to do? Help me, dig.
Unidentified Boy: Leave me alone.
Rev. RUN: I'm lucky to have this pulpit. I don't--I'm very, very blessed that God would give me this great, huge audience on MTV to do it. I'm a vessel being used by God to do something, you know, that can be inspirational.
CHIDEYA: What is the inspirational content on your CD? I'm sure that you've put quite a bit of that out there.
Rev. RUN: The album is more feeling like a Run-DMC album, the additional--or vintage is the word I'm looking for, vintage Run-DMC. It's not a gospel record at all. If you went away in '86, you came back and put this album on, you'll think nothing changed.
(Soundbite of unidentified song)
Rev. RUN: (Singing) Yo, in my, in my imagination's creation I had to get paid. I had a better way to get them so the suckers were slayed. I had to get up and smash them, beat them down and bash them, stuff them through the garden fully hardy to the maxim.
CHIDEYA: How do you as a husband, a father--including a father of a daughter--relate to some of the sexuality in hip-hop, what I would argue is a war between the sexes?
Rev. RUN: My job is to, again, show my life, not to condemn and point fingers at what's going on in hip-hop. You want to do something to make people look to you and inspire. You know, I don't consider myself to be cool anymore. I'm cool's inspiration. I'm the sign pointing to where we should be going. I have to do this thing and be careful to do it in a way that relates to them and they can see I'm not chasing their opinion of what I'm doing. A lot of times you'll be either going so hard against the youth that they'll be, like, `We're not trying to hear you,' or you'll be trying to act so much like them that they don't respect you. You have to be very skillful, and God gives that talent out to certain individuals where you can pull off something that's pretty cool. And I believe that the person that God has made me to now is the man for the job.
CHIDEYA: It's a big job, and you seem more than up to it. Reverend Run, from our studios at NPR West. His new CD, solo CD, is "Distortion." You can also catch the Reverend and his entire family on his new MTV reality show, "Run's House."
Thank you so much for coming by.
Rev. RUN: Thank you.
(Soundbite of unidentified song)
Rev. RUN: (Singing) And when I say `Who's out?' y'all know what time it is.
GORDON: That was NPR's Farai Chideya.
(Soundbite of unidentified song)
Rev. RUN and Backup Singers: (Singing) That's Run's house.
Rev. RUN: (Singing) And once again, my friend, not a trend for bend (unintelligible).
GORDON: Thanks for joining us. That's our program today. To listen to the show, visit npr.org. NEWS & NOTES was created by NPR News and the African-American Public Radio Consortium.
Rev. RUN: (Singing) It gets done by none. The other ...(unintelligible) why I got killed.
Backup Singers: Why?
Rev. RUN: (Singing) It fun, my son, and Run heads the bill. Who's house? That's Run's house.
GORDON: I'm Ed Gordon. This is NEWS & NOTES.
NPR transcripts are created on a rush deadline by Verb8tm, Inc., an NPR contractor, and produced using a proprietary transcription process developed with NPR. This text may not be in its final form and may be updated or revised in the future. Accuracy and availability may vary. The authoritative record of NPR's programming is the audio record.