Books for Children, Books for Life
Explore These Titles
Excerpts for selected books on Maria Salvadore's list: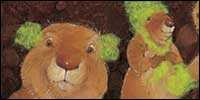 About the Author
Children's librarian Maria Salvadore is a consultant for many literacy programs including WETA's Reading Rockets, the Kennedy Center Education Department, Reading Is Fundamental, and DC Early Childhood Education Collaborative.
It's portable, durable, doesn't require batteries. It can be shared among children or between adults and children, even among generations. It causes laughter and tears, excitement and consternation. And it's almost always more popular than the box it comes in.
What is this wonder-gift? A book, of course!
A good book outlasts even the most energized mechanical bunny. Each time a book is read or reread, a child gains something new. Young children pick up language, patterns of speech, ways to respond, meaning in image and word. Older readers explore ideas, emotions and ways of behaving. Children of all ages build empathy and a storehouse of emotional readiness through vicarious experiences gained while reading.
And nothing teaches children of the the pleasure and importance of reading than the gift of a book from a trusted adult -- especially when it's read by that adult.
Certain books are likely to vacate my son's bookshelves only when he takes them to a home of his own someday. The Harry Potter books (and Jim Dale's terrific readings for the audios ), Maurice Sendak's Where the Wild Things Are, and even a well worn copy of a dusty old R.L. Stein "Goosebumps" paperback are among them. While I introduced him to Harry Potter, a beloved teacher gave him Wild Things, and a pal shared a couple of his own Goosebumps just when my son needed a friend as well as a good read.
I still treasure certain books that were given to me when I was a girl. My mother gave me her copy of L.M. Montgomery's Blue Castle (which I later gave to my niece and last time I looked, it was still on her shelf); a friend I looked up to gave me her copy of Jane Eyre by Charlotte Bronte. That these women cared about enough about me to share their own books, well, it spoke volumes -- as it does still to young people.
Children care about what the significant adults in their lives care about. People of all ages, interests and experiences can connect over books.
In a high tech world, the low-tech book seems to get a bad rap all too often. But the predicted demise of the medium has not happened because books and stories are important parts of growing up.
No password required, no need to plug it in. A book still engages the most powerful mechanisms around: the heart and head of a young reader. Give a book, make a connection.
Babies
Llama Llama Red Pajama by Anna Dewdney; Viking, 2005. Picture book.
Neither bedtime rituals nor the nighttime fears that descend when Mama Llama leaves his room subdue the dramatic baby llama in this picture book Young children (and their parents) will see themselves in the rhyming text and expressive, winning illustrations.
Siesta by Ginger Foglesong Guy. Illustrated by Rene King Moreno. Greenwillow, 2005. Picture book.
To prepare for a backyard adventure, two children pack a rainbow of necessities: a blue backpack, a yellow book, even a multicolored blanket to serve as their tent when they take a nap. In uncomplicated sentences presented in both Spanish and English, the story is also illustrated in richly hued, swirling images.
Truck Goes Rattley-Bumpa by Jonathan London. Illustrated by Denis Roche. Holt, 2005. Picture book.
Trucks come in many sizes and colors to serve many functions including driving a little boy to his new home. Crisp lines, broad forms and bold colors combine with the straightforward narration for a satisfying look at things that go.
Preschool
The Great Fuzz Frenzy by Janet Stevens and Susan Stevens Crummel. Harcourt, 2005. Picture book.
Great excitement results when a fuzzy green ball is accidentally dropped by a large lumpy dog into a hole inhabited by prairie dogs. The prairie dogs not only make fashion statements but also discover that fancy fuzz can cause trouble. Spirited illustrations in a large format are as vivacious and as funny as the text.
The Little Engine That Could by Watty Piper. Illustrated by Loren Long. Philomel, 2005. Picture book.
Rich, full color illustrations in a large format breathe new life into the classic story of the Little Blue Engine that overcomes tough odds to succeed. It's all because she believes in herself: "I think I can. I think I can. I think I can." And she does.
Walter Was Worried by Linda Vaccaro Seeger. Roaring Brook, 2005. Picture book.
The alphabet is cleverly used to tell an alliterative story while introducing a range of emotions in rich language and clever illustrations. Not only was Walter worried in this excursion, Priscilla was puzzled, Elliott was ecstatic, etc., and each created by the letter itself building inventive visuals and words with which to play.
6-to-9-Year-Olds
All-of-a-Kind Family by Sydney Taylor. Illustrated by Helen John. Delacorte, c1951, 1979; 2005 edition. Historical fiction.
Meet the "stair and step" girls, Ella, Henny, Charlotte, Sarah and Gertie who live with their parents on the lower East Side of New York in the early 1900s. Though the girls lived long ago, their fears as well as their triumphs are really a celebration of everyday doings and remain as fresh today as when the girls were first introduced over 50 years ago.
Lucy Rose: Here's the Thing About Me by Katy Kelly. Delacorte, 2004. Fiction.
Lucy Rose realizes she is a "smart cookie," but is still thrown by the changes in her life, including a move to Washington, DC where her grandparents live. She narrates her own story in this fresh, often funny, and always plausible novel. Her story continues in Lucy Rose: Big on Plans (2005).
Whales on Stilts by M.T. Anderson. Harcourt, 2005. Science fiction, humor.
Lily and her talented chums, Kate and Jasper, foil the bad guy's plan to conquer the world by creating fierce, land-trotting whales. This fast, funny, and action-packed burlesque is a page-turner, sure to leave readers wanting more.
9-to-12-Year-Olds
Skybreaker by Kenneth Oppel. EOS/HarperCollins, 2005. Science fiction.
High adventure takes place high above the earth as Matt Cruise, first introduced in Airborn (2004), becomes involved in a dangerous expedition with a mysterious gypsy aboard a specially equipped airship. Excitement abounds in this breathtaking and immensely satisfying novel.
Blood Red Horse by K. M. Grant. Walker, 2005. Historical fiction.
During the time of the Crusades, two boys from different worlds experience the brutality of war and share affection for a remarkable horse named Hosanna. Alternating between England and the Middle East, this epic story is grippingly fast-paced and surprisingly contemporary bringing to life historical figures such as Richard the Lionhearted and Saladin.
Project Mulberry by Linda Sue Park. Clarion, 2005. Contemporary fiction.
Julia and her friend Patrick come up with a unique project for their 4-H-like club, ultimately better connecting them to their community and Julia to her Korean heritage. Told in Julia's fresh and often funny voice, conversations between the author and Julia are inserted between chapters and provide insight, humor and a glimpse into the writing process.
12-to-14-Year-Olds
Criss Cross by Lynne Rae Perkins. Greenwillow, 2005. Contemporary fiction.
Young people at the crossroad between childhood and adulthood confront the choices that must be made along the way. The surprising connections among them are revealed in a well-paced, varied text. Delicately lined sketches and an occasional black/white photograph enhance the fine characterizations in this gentle story.
Shackleton's Stowaway by Victoria McKennan. Knopf, 2005. Historical fiction.
Perce Blackborow was a young man eager to join Ernest Shackleton's expedition to the Antarctic in the early 1900s, but without inexperience he could only get aboard the Endurance as a stowaway. Actual events inspired and inform this spectacular, well-documented and riveting adventure.
Witch's Boy by Michael Gruber. HarperTempest, 2005. Fantasy.
Lump, as he came to be known, remains as incredibly ugly as a sullen adolescent as when he was first taken in by the wise woman, a witch, as a baby. Elements of magic and familiar folktales combine to create a memorable and sometimes surprising fantasy as well as a clever literary tale.
Books Featured In This Story