Recipes: 'Chocolate Chocolate'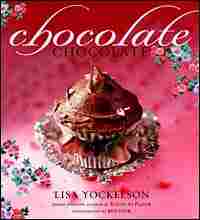 More Recommendations
See more picks from food writer Heidi Swanson.
"My sweet tooth hurts just thinking about Lisa Yockelson's new mammoth, 496-page Chocolate Chocolate," food blogger Heidi Swanson writes in her roundup of the best cookbooks to give and receive this year.
Dark Chocolate Waffles
Dark Chocolate Batter:
1 1/2 cups bleached all-purpose flour
2/3 cup plus 2 tablespoons unsweetened alkalized cocoa powder
1 3/4 teaspoons baking powder
1/4 teaspoon baking soda
1/8 teaspoon salt
1 cup superfine sugar
9 tablespoons (1 stick plus 1 tablespoon) unsalted butter, melted and cooled to tepid
3 large eggs
1/3 cup plus 2 tablespoons sour cream
2 teaspoons vanilla extract
1 1/3 cups milk
3/4 cup miniature semisweet chocolate chips
Confectioners' sugar, for sprinkling over the waffles
Mix the batter: Sift the flour, cocoa powder, baking powder, baking soda, salt, and sugar into a medium-size mixing bowl.
In another medium-size mixing bowl, whisk the melted butter, eggs, sour cream, vanilla extract, and milk. Pour the whisked mixture over the sifted mixture, add the chocolate chips, and stir to form a batter, using a wooden spoon or flat paddle, mixing until the particles of flour are absorbed. Be sure to sweep the bottom and sides of the mixing bowl to thoroughly incorporate the dry ingredients.
Make the Waffles: Preheat a deep-dish waffle iron composed of two 4 1/2-inch squares (the entire grid section measures about 4 1/2 by 9 inches). Or, preheat a 5-interconnected-heart waffler.
Spoon 1/3 to 1/2 cup batter onto each square of the preheated deep-dish iron; spoon about 2/3 cup batter into the center of the single 5-heart waffler. Cook the waffles for about 1 1/2 to 2 minutes, or until completely cooked through and set. Lift waffles onto warm serving plates. The heart-shaped waffle can be served whole, or divided into individual hearts. Wait a moment before serving them to allow the chips to cool down. Sprinkle the waffle. with confectioners' sugar and serve.
5 Belgian-style 2-sided waffles or about 10 heart-shaped waffles.
Chocolate Fudge Scones
Chocolate Fudge Dough:
4 cups bleached all-purpose flour
2/3 cup unsweetened alkalized cocoa powder
4 3/4 teaspoons baking powder
1 teaspoon salt
2/3 cup plus 3 tablespoons granulated sugar
12 tablespoons (1 1/2 sticks) cold unsalted butter, cut into tablespoon-size chunks
4 large eggs
1 tablespoon plus 1 teaspoon vanilla extract
2/3 cup plus 3 tablespoons heavy cream
2 cups semisweet chocolate chips
About 1/3 cup crystallized sugar (or granulated sugar), for sprinkling on the tops of the unbaked scones
Preheat the oven to 400 degrees F: Line 2 heavy cookie sheets or rimmed sheet pans with lengths of cooking parchment paper.
Mix the dough: Sift the flour, cocoa powder, baking powder, salt, and granulated sugar into a large mixing bowl. Drop in the chunks of butter and, using a pastry blender or two round-bladed knives, cut the fat into the flour mixture until reduced to large pieces about the size of large pearls. Reduce the fat further to smaller flakes, using your fingertips. In a medium-size mixing bowl, whisk the eggs, vanilla extract, and heavy cream. Pour the egg mixture over the sifted ingredients, scatter the chocolate chips over, and stir to form a dough. Gather the dough into a rough mass. Knead the dough lightly in the bowl for 30 seconds to 1 minute.
Form the scones: Divide the dough in half. On a lightly floured work surface, pat or roll each piece into a disk about 7 inches in diameter. With a chef's knife, cut each disk into 5 wedges. As the scones are cut, press in any chips that may stick out of the sides. Transfer the scones to the prepared pans, placing them 3 inches apart. Assemble 5 scones on each pan. Sprinkle a little sugar on top of each scone.
Bake and cook the scones: Bake the scones in the pre-heated oven for 17 to 19 minutes, or until set. Begin checking the scones at 16 minutes. Transfer the pans to cooling racks. Let the scones stand on the pans for 1 minute, then carefully remove them to cooling racks, using a wide offset metal spatula. Cool completely. Serve the scones freshly baked.
Bake and serve within 1 day.
For Chocolate Fudge Chunk Scones, substitute 12 ounces bittersweet chocolate, chopped into chunks, for the semisweet chocolate chips.
Makes 10 scones.
Reprinted by permission from ChocolateChocolate, by Lisa Yockelson. Published by John Wiley & Sons, Inc. Copyright © 2005 by Lisa Yockelson. All rights reserved.
Books Featured In This Story
Hardcover, 496 pages |
purchase
Buy Featured Book
Title

Chocolate Chocolate

Author

Lisa Yockelson and Ben Fink
Your purchase helps support NPR programming. How?