'Burn': Musical Fruit from Australia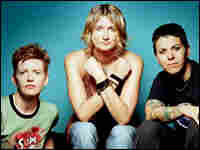 The Australian band Fruit is well-known for bringing its distinctive vocal harmonies to thousands of shows across the globe. Their latest release is the album Burn.
Based in Adelaide, in South Australia — a place noted for its wine and surfing — Fruit features three vocalists who trade the lead and write music: Mel Watson, Susie Keynes, and Sam Lohs. They are backed by drummer Yanya Boston, with Brian Ruiz on bass.
Set List
Songs played by Fruit for 'World Cafe':
"No Regrets"
"Burn"
"A Thousand Days"
For Burn, the trio teamed with Philadelphia producer David Ivory, whose previous work with The Roots (Things Fall Apart) and Erykah Badu (Baduizm) has garnered several Grammy nominations.
Related NPR Stories
Web Resources