Berliners Split on Future of East German Palace
A fierce argument is taking place in Berlin about a building that represents a difficult part of the city's history. In a few weeks, the old East German parliament is scheduled to be torn down. But as the demolition date approaches, a growing number of young Berliners are mounting a protest to save it.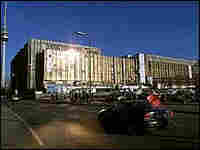 DEBBIE ELLIOTT, host:
In a few weeks, in Berlin wrecking crews are going to tear down the old East German parliament building. The plan is to replace it with a reconstruction of the ornate royal palace that stood at the site before Communist authorities tore it down. But as the demolition date approaches, more and more young Berliners are mounting a protest to save it. Joellen Perry reports from Berlin.
JOELLEN PERRY reporting:
(Soundbite of music)
PERRY: On a cold Saturday afternoon, thousands of protesters march down Berlin's grand main avenue, Unter den Linden. They stop at a huge, boxy building called the Palace of the Republic, the former seat of East Germany's government. Some Germans say the graffiti-splattered steel and bronze glass building is an anomaly in the baroque city center, an ugly symbol of a repressive regime. But for these demonstrators, the building is an important part of Berlin's history. As Mark Wilkins(ph), one of the march organizers, tells the crowd, this is where the former East German parliament accepted unification with the West.
Mr. MARK WILKINS (March Organizer): (Through translator) Berlin stands for dialogue and reconciliation, and this building stands for reconciliation between East and West and for dialogue between generations.
(Soundbite of crowd cheering)
PERRY: In 2003, Germany's parliament called the building an eyesore and voted to tear it down. Polls show Berliners are evenly split on the plans to demolish the Palace of the Republic. Wilhelm Von Badeen(ph) runs an organization that's raised nearly $13 million to rebuild the Prussian castle that used to stand on the site.
Mr. WILHELM VON BADEEN: We want to repair the old city of Berlin, like many old cities in France, England, Germany, Russia, Poland have been repaired, getting back their old identity.
(Soundbite of crowd)
PERRY: Many of the East Germans at the Christmas festival outside the building remember the palace fondly. Part government seat and part community center, it hosted rock concerts, bars, even a bowling alley. Sipping a glass of mulled wine, Thomas Opreit(ph), a 42-year-old Easterner, says the palace is part of his Berlin.
(Soundbite of crowd)
Mr. THOMAS OPREIT (42-Year-Old Easterner): (Through translator) I have very positive memories of it. I used to go to the restaurants there. If it were torn down, something from me would be missing, something that connects me personally to Berlin.
PERRY: After the wall fell, the Palace of the Republic was closed for 15 years. Cleared of asbestos in 2003, its steel shell became a center of counterculture. One artist built a huge Fiberglas mountain in the building's center. Another flooded the first floor and offered raft tours. Projects like these introduced the Palace of the Republic to a whole new generation of Germans. Berlin architect Christof Vagna(ph) is an organizer of the protest movement.
Mr. CHRISTOF VAGNA (Architect, Berlin): I have a very strong feeling against the Prussian castle and against rebuilding history and--it's like Disneyland, something which is not true. And the palace, if you like it or not, it's true.
PERRY: The protesters have collected about 10,000 signatures to stop the demolition. They also point out that Berlin is broke and can hardly afford the billion-dollar project. But so far, the protests have been unsuccessful. If all goes according to plan, workers will start tearing down the Palace of the Republic next month. For NPR News, I'm Joellen Perry in Berlin.
NPR transcripts are created on a rush deadline by Verb8tm, Inc., an NPR contractor, and produced using a proprietary transcription process developed with NPR. This text may not be in its final form and may be updated or revised in the future. Accuracy and availability may vary. The authoritative record of NPR's programming is the audio record.