Independent Booksellers Make Their Holiday Picks
Independent Booksellers Make Their Holiday Picks
Wondering which books to buy for gifts this year, or to treat yourself? Susan Stamberg speaks to three independent booksellers about their top book picks for this holiday season.
Chuck Robinson
Village Books in Bellingham, Wash.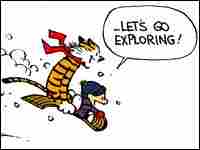 Hungry Planet: What the World Eats by Peter Menzel, Faith D'Aluisio: Thirty families are photographed with all of the food on their shopping list for two weeks.
The Complete Calvin and Hobbes by Bill Watterson: The three-volume set catalogs 3,160 strips of the beloved comic about a boy and his stuffed tiger.
Democracy's Edge: Choosing to Save Our Country by Bringing Democracy to Life by Frances Moore Lappe: Many books out there in the political realm address what is wrong with the country. In this book, Moore recounts some of those issues but also is very hopeful about the future.
An Unfinished Life by Mark Spragg: Recently made into a film, this novel is beautifully written with a real modern Western feel and finely drawn characters.
Ursula, Under by Ingrid Hill: Set in the Upper Peninsula of Michigan, this novel tells the story of a 2-year-old girl who is part Chinese and part Finnish.
The Line of Beauty by Alan Hollinghurst: The title of this book refers to so many different things -- an architectural line of beauty, sexual overtones, cocaine. It's a comedy of manners in old British style.
Rona Brinlee
The Book Mark in Atlantic Beach, Fla.
Rereadings: Seventeen Writers Revisit Books They Love, edited by Anne Fadiman: This is a tiny little book that catches your eye, perfect for book lovers about the process of rereading a favorite.
The Accidental Masterpiece: The Art of Life and Vice Versa by Michael Kimmelman: This book is for both the artist and art lover. Kimmelman writes about how you can revisit paintings and remember that life is full of passion and art.
Solo: My Adventures in the Air by Clyde Edgerton: In this memoir, Edgerton comes to terms with his love of flying airplanes and his discomfort with being a combat pilot in a war he didn't support (Vietnam).
The Reasons I Won't Be Coming by Elliot Perlman: The author of Seven Types of Ambiguity offers nine stories told in different voices in the first person.
Poetry Speaks to Children, edited by Elise Paschen, et al: This is a beautiful children's picture book with CD that is also great for those who loved poetry as a child or were scared away from poetry.
Lucia Silva
Portrait of a Bookstore in Studio City, Calif.
Chip Kidd: Book 1: Work: 1986-2006 by Chip Kidd: This compendium traces the book designer's work from the beginning of his career.
The Penguin Great Ideas Series: This collection of 12 small books includes work by some of the world's most prominent thinkers: Darwin, Raskin, Nietzsche, Paine, Machiavelli, Orwell.
Norton Anthology of Children's Literature: The Traditions in English, edited by Jack Zipes: This spectacular collection covers 350 years of literary works for children by 170 authors.
In Memory of My Feelings by Frank O'Hara: A coffee table book pairs O'Hara poems with the catalog of an exhibition from last year at MOMA.
A Christmas Memory by Truman Capote: A loosely autobiographical story from the author's childhood, it's short enough to read aloud every Christmas.
More Holiday Book Lists
Booksellers in This Story