Mortalities from a Flu Pandemic Hard to Predict
Mortalities from a Flu Pandemic Hard to Predict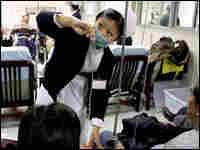 When public officials talk about bird flu, they often quote a scary statistic: Half of all the people known to be infected with the virus have died. But scientists say that figure has little bearing on what's likely to happen in an actual pandemic.
In fact, flu experts have pretty much ignored the 50-percent figure when estimating how many people might die in a bird-flu pandemic. That's because such a high mortality rate goes against all of our experience with flu viruses, says Dr. Anthony Fauci, director of the National Institute of Allergy and Infectious Diseases.
"We have never in our wildest dreams seen that in our history, where you have something that spreads rapidly throughout the world and kills 50 percent of the people," Fauci says. "Even with the infamous 1918 pandemic, we didn't even come close to a 50-percent mortality. It was more like 1.5 to 2 percent."
Of course, that was high enough to kill tens of millions of people worldwide.
Fauci says one reason flu doesn't kill more people is that even a strain as lethal as the current bird flu usually gets weaker as it spreads.
"It is highly, highly likely that it will decrease its mortality and its virulence for humans, because from an evolutionary standpoint, it makes no sense for viruses to kill all their hosts," Fauci says.
That would amount to viral suicide.
Another problem with the 50-percent figure is that it includes only the people who got so sick they were actually tested for bird flu.
"There probably are milder cases of illness, as well as people who have no symptoms whatsoever," says Dr. Tim Uyeki, a medical epidemiologist at the Centers for Disease Control and Prevention.
Uyeki says death rates from viruses like West Nile and SARS seemed very high at first. But they began to fall once doctors began finding the people who got milder cases.
And Uyeki says there is already some evidence that the current bird-flu virus, known as H5N1, doesn't make everyone it infects severely ill.
When H5N1 surfaced in Hong Kong in 1997, it appeared to kill about a third of the people it infected. But Uyeki says a study of poultry workers there told a different story.
"Among market poultry workers," he says, "about 10 percent had antibodies to H5N1 virus, suggesting that they had been infected. But these were people who never were identified as severe cases, had never been hospitalized."
So the actual death rate in Hong Kong may have been much lower than it seemed.
But if 50-percent mortality is too high, it's hard to know what the right number is.
One reason is that the H5N1 virus isn't acting the way most viruses do, says Dr. Frederick Hayden of the University of Virginia.
"This virus so far has not shown any diminution in virulence for birds or for mammalian hosts," Hayden says. "If anything, we're seeing evidence of increased pathogenicity."
So scientists are making educated guesses. Anthony Fauci says the public, and policy makers, need numbers in order to make plans.
He says they want to be told there's "a 5-percent chance of this or a 10-percent chance of that, or a 2-percent mortality is a worst-case scenario."
But Fauci adds, "The one thing that you learn with infectious diseases, particularly with influenza -- because influenza is a particularly bad actor in this regard -- [is that] it is really quite unpredictable."
Fauci says public health officials are preparing for the worst. But in this case, that means a mortality rate closer to 2 percent than 50 percent.
Human Bird-Flu Cases So Far
Cambodia: Reported its first outbreak of bird flu among poultry in 2003 and its first human case in 2005. It's had four confirmed human cases so far, all of them fatal.

China: Battled dozens of bird-flu outbreaks among poultry before confirming its first two cases in humans in November. Five human cases have been reported so far, two of them fatal. The most recent involved a 31-year-old female farmer from Liaoning province; she recovered.

Indonesia: Most recent confirmed case involved a 35-year-old man from West Jakarta who died Nov. 19. The country has had 14 confirmed cases, all of them in 2005; nine have been fatal.

Thailand: Most recent case of bird flu involved a 5-year-old boy who died Dec. 7. Results suggest the child was infected from dead chickens in his neighborhood in Nakhonnayok province. It was Thailand's second bird-flu death this year and its fifth confirmed case. Since 2004, Thailand has reported 22 cases, nine of which have been fatal.

Vietnam: Identified its first human cases of bird flu in January 2004. Since then, the country has reported 93 human cases, 42 of them fatal.

— Maria Godoy