New Orleans Homeowners Fight Demolitions
New Orleans Homeowners Fight Demolitions
The city of New Orleans is asking a federal judge to allow it to raze some of the thousands of homes severely damaged by Hurricane Katrina. Residents of the lower Ninth Ward won a restraining order last month that temporarily halted demolition.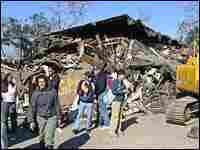 STEVE INSKEEP, host:
New Orleans is asking a federal judge to allow the city to start demolishing some of the thousands of homes devastated by Hurricane Katrina. This is a very emotional debate, especially in some of the worst-affected areas, like the Lower Ninth Ward of the city. Residents of that area last month got a restraining order temporarily halting demolition, but New Orleans officials say tearing down houses is the first step toward rebuilding. Here's NPR's Greg Allen.
GREG ALLEN reporting:
It was some of the most activity seen in the Lower Ninth Ward since in the aftermath of Hurricane Katrina the neighborhood was devastated four months ago. Dozens of activists and their lawyers converged on a block where nearly every house had been reduced to a pile of rubble. Hard-hatted contractors using heavy equipment and huge trucks had begun clearing rubble and collapsed houses from the streets, work that with the arrival of the protesters was soon halted for safety reasons.
(Soundbite of construction equipment beeping)
Unidentified Man #1: Get them out of here?
Unidentified Man #2: Yeah.
ALLEN: The dispute began shortly before Christmas when New Orleans officials said they planned to begin razing thousands of the most badly damaged homes. Lawyers representing low-income residents, many from the Lower Ninth Ward, went to court and got an order stopping the demolition. Yesterday, that court order was still in force. City lawyers said the crews weren't razing houses, just clearing rubble that was blocking the streets. Lawyer and activist Ishmael Mohammed(ph) said one person's rubble is another person's home.
Mr. ISHMAEL MOHAMMED (Lawyer and Activist): We will not allow them to remove one piece of board! We will not allow them to remove one piece of thing that they call rubble and we believe that that has to do or is connected in some way with someone's home--period!
ALLEN: The city has maintained that it has the authority to clear houses that pose a threat to public safety, but because of the emotions surrounding the issue, the head of New Orleans' Safety and Permits department, Greg Mefford, says the city is now intent on removing just 120 homes, structures that pose safety risks or road hazards. It's the first step, he says, in getting New Orleans back on its feet.
Mr. GREG MEFFORD (Head of New Orleans Safety and Permits Department): The easy road would have been to say, you know, `Hey, I'm worried about all this. I'm just going to let it go.' You know, we're talking four months already after the storm where we are now. But we want people to come back. And if I can't rebuild, you have no place to live.
ALLEN: All 120 houses now slated for demolition are in the Lower Ninth Ward, leading some residents here to charge that the city is trying to demolish their neighborhood before many have had a chance to return and see their homes. Tanya Harris is an organizer with ACORN, a community housing group that's one of those working in court to halt the demolition. She says there are many people in the Lower Ninth Ward, like her grandmother, who aren't yet ready to see their homes and their memories bulldozed and carted away.
Ms. TANYA HARRIS (ACORN Organizer): My grandmother's house is flat on the ground. We pulled out a vase intact, a vase that my grandfather gave her, and he's deceased. That was very valuable to her, and there are a lot of people who want that opportunity. That's what the lawsuit is about.
ALLEN: Yesterday, with one day left to run on the order halting demolition, New Orleans announced it was moving the case from state to federal court. Lawyers for the residents called it an underhanded tactic, one which would allow them to begin razing homes after the restraining order expired. Safety and Permits head Greg Mefford says it's time for people in New Orleans, including those in the Lower Ninth Ward, to begin thinking about the future.
Mr. MEFFORD: New Orleans has got to start rebuilding and stop just playing victim. And if you can't start with the first 120 houses that have already slid across the street literally, where can I start?
ALLEN: Lawyers for residents say they'll fight in federal court to once again halt the demolitions until homeowners in the Lower Ninth Ward are ready for their houses to be torn down and the land cleared for rebuilding. Greg Allen, NPR News, New Orleans.
INSKEEP: This is NPR News.
NPR transcripts are created on a rush deadline by Verb8tm, Inc., an NPR contractor, and produced using a proprietary transcription process developed with NPR. This text may not be in its final form and may be updated or revised in the future. Accuracy and availability may vary. The authoritative record of NPR's programming is the audio record.