Schwarzenegger: 'I've Learned My Lesson'
California Gov. Arnold Schwarzenegger delivered his third State of the State address Thursday night. Schwarzenegger, who has suffered a drop in the polls and whose initiatives were defeated in a special election last November, struck a conciliatory tone.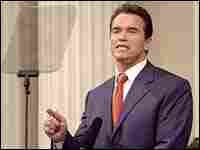 STEVE INSKEEP, host:
This is MORNING EDITION from NPR News. I'm Steve Inskeep.
If imitation is the sincerest form of flattery, well, California's Democrats should feel deeply appreciated right now by Republican Governor Arnold Schwarzenegger. In his State of the State speech last night in Sacramento, Schwarzenegger sounded a lot like one of them. This comes just two months after a special election in which voters rejected all of the governor's agenda. NPR's Ina Jaffe reports.
INA JAFFE reporting:
`What a difference a year makes,' said Arnold Schwarzenegger. Indeed. In last year's State of the State speech, he was confrontational, pressing to call a special election if the Democratic Legislature didn't do what he wanted. The subsequent campaign was bruising and expensive. Schwarzenegger lost more than 30 points in the polls, and his opponents painted him as a conservative Republican out of sync with a state where two-thirds of the voters are Democrats or Independents. Last night he wanted everyone to know he's now learned to listen to the people.
Governor ARNOLD SCHWARZENEGGER (Republican, California): I have absorbed my defeat and have learned my lesson. And the people, who always have the last word, sent a clear message: Cut the warfare, cool the rhetoric, find common ground and fix the problems together. So to my fellow Californians, I say message received.
(Soundbite of applause)
JAFFE: Now Schwarzenegger's proposing an ambitious public works program that would span at least a decade and cost around $200 billion, almost 70 billion of it borrowed. The state really has no choice, he said. California's population could grow by as much as 30 percent in the next 20 years.
Gov. SCHWARZENEGGER: We need more roads, more hospitals, more schools, more nurses, more teachers, more police, more fire, more water, more energy, more courts, more, more, more.
JAFFE: Last night, Schwarzenegger also called for an increase in the state's minimum wage, though he's twice vetoed minimum wage bills passed by the Democrats. He also called for freezing the university tuition hikes that he himself put in place and which most Democrats opposed. Reaction from Democrats was cautious. Don Perata, president pro tem of the Senate, thought the voters wouldn't trust Schwarzenegger's sweeping, ambitious plan.
Senator DON PERATA (Democrat, California): I would much prefer to put something reasonable on the table that they believe we can accomplish, that outlines what they're interested in. If you throw out a big number and there's a lot of vague language about how you're going to get there and we're going to pay for everything, that's adding to the skepticism.
JAFFE: Schwarzenegger's fellow Republicans expressed qualified support for his public works plan, preferring to see the details before committing. But they were dead-set against some of his other proposals. Kevin McCarthy is the minority leader in the Senate.
Senator KEVIN McCARTHY (Republican, California): I think raising of the minimum wage could hurt our economy. We have created 450,000 new jobs in California by keeping the minimum wage down. I don't know that the time is right to raise the minimum wage.
JAFFE: The skepticism that now greets Schwarzenegger on both sides of the aisle was apparent during the speech. Lawmakers applauded frequently but more from politeness than enthusiasm. Democratic State Senator Sheila Kuehl.
State Senator SHEILA KUEHL (Democrat, California): The chilly reception the governor got on the floor today really had to do with people saying, `I've heard him say that before. I've heard him say the opposite before. I've heard him make a promise and not keep it before. Let's see if he actually does what he's saying, and then we'll applaud.'
JAFFE: But last night's speech wasn't just for lawmakers. It was Schwarzenegger's first campaign speech in his bid for re-election this year. Today he'll be courting voters around the state, pitching his public works plan and hoping they're a little more forgiving than his fellow politicians. Ina Jaffe, NPR News, Sacramento.
NPR transcripts are created on a rush deadline by Verb8tm, Inc., an NPR contractor, and produced using a proprietary transcription process developed with NPR. This text may not be in its final form and may be updated or revised in the future. Accuracy and availability may vary. The authoritative record of NPR's programming is the audio record.