Capt. Christopher Petty: Military Was in His Blood
Capt. Christopher Petty: Military Was in His Blood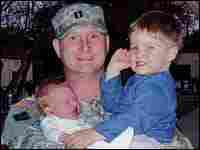 For Christopher Petty, the military was in his blood. Petty's grandfather commanded artillery troops during World War II. Another relative led militiamen against the British during the Revolutionary War.
Petty grew up overseas as the son of a foreign service officer. Athletic and outdoorsy, he struggled to finish high school in Northern Virginia but later joined the Army ROTC while a student at Marshall University. Petty had planned to make the Army his career.
In 2003, he led his men into battle in Northern Iraq. He later rebuilt municipal water projects and helped organize local elections.
Petty came home to Fort Hood, Texas, in 2004 to wife Deborah and son Oliver. The couple had their second boy, Owen, just three months ago. As Petty's unit with the Fourth Infantry Division prepared for a second deployment, Petty was not obligated to return. Father-in-law John Hunt says that in the end, Petty's duty to his men was stronger than his own misgivings about the war and returning to it.
When he returned to Iraq last month, Petty commanded a unit of about 200 soldiers. Early this month, while traveling from Baghdad to Najaf to check a school rebuilding project, his convoy detonated a roadside bomb. Petty died with four other soldiers in his unit, just weeks into his second tour of Iraq. Hunt said his son-in-law's legacy was a willingness to help others and love of his country. The family says goodbye Tuesday at Arlington National Cemetery.