Into Africa with 'The Boys of Baraka'
Into Africa with 'The Boys of Baraka'
The documentary follows three African-American students who get the opportunity to attend an academically rigorous school in Kenya designed to give them a path out of the violence and poverty of inner-city Baltimore.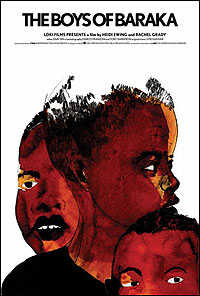 MONTAGNE: A new documentary about Black high school students heading to a school in Africa is among those on the short list for an Academy Award. Los Angeles Times and Morning Edition film critic Kenneth Tehran says, The Boys of Baraka is one of the best.
Mr. KENNETH TEHRAN (Film Critic): The Boys of Baraka is a moving, troubling documentary. It's moving because of the aching nature of the problem it explores, and it's troubling because the films underlines that simple solutions are never going to present themselves no matter how much we want them to. Boys of Baraka holds us because it's true to its title. It's spends so much intense time, nearly three years, with a group of young boys from Baltimore's dead-end streets that we care enormously about where they end up.
(Soundbite of movie Boys of Baraka):
UNIDENTIFIED BOY: My neighborhood is mostly about drugs, for real. People, that's all they're doing drugs, stick a needle in their arm, messing up their blood. I know I'm smart, and I don't want my brother, my baby brother anyway, to grow up in no, in no, in no projects.
Mr. TEHRAN: An on-screen statistic near the start of the film puts everything into perspective. A full 76 percent of Baltimore's African American boys do not graduate from high school. The Baraka School, a progressive educational institution in Kenya, was created to help remedy that. It's a rural two-year boarding school, 20 miles from the nearest town, set up to educate and change the attitudes of at-risk boys. The idea is to see if removing bad influences and adding focus teaching, get the motivated enough to get into good high schools.
(Soundbite of movie "Boys of Baraka")
UNIDENTIFIED MALE: First of all, I want to say, officially, welcome to Baraka School. I have a feeling you're going to find a whole lot of things different here than they were in Baltimore. One of the things we're going to ask you, and this will be throughout the year, is deal with your problems appropriately.
Mr. TURAN: Twenty students make up the each Baraka class, but the film zeroes in on a trio of 12- and 13-year-old boys. They are so intense, candid and sincere, that it's no surprise that the filmmaker stayed with them for all those years. At the most basic level, what going to Kenya does to these boys is allow them to be boys, to capture frogs and run around in the rain. But they also remain wary kids from the neighborhood, testing limits, facing off against each other, getting used to a kind of discipline, academic and otherwise, they have never experienced before. This is far from an easy process, and one that has no assurance of success.
(Soundbite of teacher interacting with a class)
Mr. TURAN: The Boys of Baraka's greatest purpose is to shine a light on a problem we as a society don't want to talk about; that's our willingness to throw away the futures of kids who grow up in dangerous neighborhoods, far from quality schools. The enormous of these children, how eagerly they respond to the kinds of educational opportunities more fortunate young people take for granted, should make us wonder how we let things get this bad. If I don't get my education, one of the boys says with more truth than grammar, I don't get nowhere.
RENEE MONTAGNE, host:
The comments of Los Angeles Times and Morning Edition film critic Kenneth Turan. The movie is The Boys of Baraka.
NPR transcripts are created on a rush deadline by Verb8tm, Inc., an NPR contractor, and produced using a proprietary transcription process developed with NPR. This text may not be in its final form and may be updated or revised in the future. Accuracy and availability may vary. The authoritative record of NPR's programming is the audio record.
Related NPR Stories
Web Resources