Hip-Hop From Jermiside & Brickbeats: 'Do Ya Thing'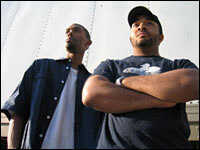 Web Resources
Emcee Jermiside Scarwell, (also known as Jermaine Foster), collaborates with producer Brickbeats, (Dave Gray), to form The Red Giants, a hip-hop duo originating from Cincinnati. Jermiside, a life long hip-hop fan, began making beats with friends in the '90s but it wasn't until 2003 that his first album, The Biology of Kingship, was released. Throughout his music career, Jermiside has kept busy by appearing on mix-tapes and compilations such as Neblina Records' Definition: Hip-Hop.
Jermiside and Brickbeats met each other through their music. "Me and Brickbeats had already been familiar with each other's music before we actually met," says Jermiside. "Somebody had given him one of my promo CDs on the street and I had heard his music off of a website."
"I left a message and we just started building from there. He'd hand me a CD with some beats and I'd go home, take a listen and whatever hit me first, I'd start writing to it - thats still how it works."
The Red Giants say they hope to get noticed in the hip-hop scene by using innovative sampling techniques and positive rhymes. Brickbeats' music, Jermiside says, "The thing I like about his sound is it brings out a brighter side of myself."
The featured track from The Red Giants is "Do Ya Thing."