Ford Unveils Job Cuts, Plant Closures
Ford Motor Co. announces plans to eliminate 25,000 to 30,000 jobs in North America — more than 20 percent of the workforce.
The long-awaited restructuring plan also includes closing 14 plants in the United States, Mexico and Canada over the next six years.
But any job cuts will have to be negotiated under the terms of the labor contract with the United Auto Workers union, and Ford officials said they did not believe the company could shrink its way back to prosperity.
Q&A: Ford's 'Way Forward'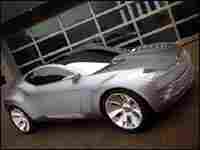 Ford Motor Company announced a sweeping restructuring plan Monday that includes at least 25,000 job cuts and 14 plant closures by 2012, part of an effort to stem the $1.6 billion in losses in its North American operations in 2005. The cuts represent 20-25 percent of Ford's North American workforce.
Ford's Restructuring Plan
Ford plans to cut between 25,000 and 30,000 jobs and close 14 facilities in North America by 2012.
Plants to be closed include the St. Louis, Atlanta and Michigan assembly plants; the Batavia Transmission plant in Ohio; and Windsor Casting in Ontario. Other facilities to be closed will be named later.
Production at St. Thomas Assembly in Ontario will be reduced to one shift.
The company's officer ranks will be reduced by 12 percent by the end of the first quarter. Ford previously said it would cut 4,000 salaried jobs by the end of the first quarter.
America's No. 2 automaker, Ford has been steadily losing market share in North America for years. The changes unveiled Monday are part of Ford's vision — which the company has dubbed the "Way Forward" — to turn around its operations. We asked automotive industry expert Paul Eisenstein, publisher of TheCarConnection.com and a frequent commentator on Morning Edition, to weigh in on Ford's roadmap for the future.
Q: Past experience has shown that downsizing doesn't necessarily lead to profitability. Does the restructuring plan that Ford revealed Monday seem like it will work?
I've actually lost count of the number of cuts and changes that Ford has made since the late 1970s. But this is the most significant plan from Ford in four years, when Chief Executive Bill Ford and his team announced their last major downsizing plan, which involved 20,000 job cuts and several plant closings. Ford President and Chief Operating Officer Jim Padilla, the No.2 man at the company, told me Ford's big mistake last time was that it failed to recognize that the industry was experiencing not the normal ups and downs of the market but a fundamental shift in the very nature of the market.
Q: Japanese carmakers have claimed more and more of the U.S. market. Will this plan make Ford more competitive?
Mark Fields (who took over Ford's North American operations in September) designed Ford's new restructuring plan. He made a point of saying that Ford needs to recognize there is no longer a Big Three but a Big Six — and Honda, Nissan and Toyota are battling it out for every tenth of a percent of market share. More than anything else I've heard from Detroit — including GM's restructuring plan, announced last November — this plan seems to recognize that there have to be fundamental changes in the industry. Going around stressing slogans like "American innovation" and the fact that Ford's been around for 100 years won't cut it anymore. The critical piece is recognizing that Ford has to change every aspect of the company — starting with the number of senior-level officers it has to the number of plants it operates.
Q: Ford's share of the U.S. market slid from 18.3 percent in 2004 to 17.4 percent in 2005 — the smallest it has been since 1920. How does Ford plan to lure U.S. buyers back?
Company officials were a little vague on whether they believe they can stabilize their market share or turn around losses this year. They are hoping to slow or end the skid in market share. But it will take several years to reverse the losses. The short-term goal is to hit the 18-percent mark again. They don't see themselves going back to the 25-percent market share they had in the 1990s.
Q: Are there any specific vehicle models that Ford is betting on?
More than any specific model, Ford officials are betting on the fact that they have to change a lot of things. While they did not commit specifically to either the Ford Fairlane or the Reflex, it's very telling that they had models of both vehicles at either side of the speakers at this morning's announcement. The Fairlane is a stylish minivan concept that Ford calls a "people mover." The Reflex is a sporty mini-compact concept car with a diesel-electric powertrain, which Ford showed at the Detroit Auto Show this year.
We're still waiting to see whether Ford will reinvigorate its offerings in the subcompact car market, for which all three of the major Japanese automakers have announced products. Ford has to get moving very quickly. It has to get way from its past mistake of simply offering "econoboxes" that consumers reject as cheap.
Q: Will Ford get out of the minivan market?
Ford has never been a player in the minivan market, which Chrysler continues to dominate. Ford just missed the mark completely. Its Freestar minivan was an abysmal failure; sales were down 23 percent in 2005. The Fairlane concept wagon, which it unveiled in Detroit in 2005, is a striking alternative: a cross between an extended SUV and a minivan that gets away from the boring box look.
Q: In the past, Ford's management has been accused of failing to reward risk-taking. Are there signs of moves to change that aspect of its corporate culture?
They are talking a good game. It's clear that Ford has put in place a system that rewards building fiefdoms and protecting turf and that discourages risk-taking. The Ford Five Hundred sedan was an example of a product that worked as a concept and then was just "blanded out" in production. Mark Fields, who is in charge of Ford in North America, said recently that some of the company's recent products have been so bland that "the only way you'd recognize them is if they ran over you."
Q: How hard will it be for Ford — a company that's been around for 103 years with the same family at the helm — to reinvent itself?
There are some real conflicts that make it both an advantage and a disadvantage to have the Ford family still in control. On the plus side, it offers some stability. At the same time, the Ford family has unique issues to consider — including keeping the company in family control. Chairman and CEO Bill Ford has clearly realized that he has got to surround himself with people willing to push the envelope and to retrench from advisers who protect the family and refuse to take risks.
Bill Ford (who is the great-grandson of company founder Henry Ford) suffered some embarrassment recently when it leaked that he was courting several outside candidates to join Ford as top executives. He approached Carlos Ghosn, the CEO of Renault-Nissan, and Dieter Zetsche, who led the turnaround at Chrysler and is now chairman of DaimlerChrysler, but was rebuffed by both. There's talk that Bill Ford is continuing to search for someone strong to work underneath him.
The automaker's current No. 2, Jim Padilla, is likely to retire soon. But whether Ford looks outside of the company for his replacement probably depends on the success of the "Way Forward" plan. Mark Fields has risen rapidly within the company, and this is his real test. He stresses the issues of reward and accountability. If this turnaround plan fails, he admitted, "it's my career." On the other hand, if it succeeds, don't be surprised to see him move all the way up to the top.