A Mammoth Death Match Preserved for the Ages
A Mammoth Death Match Preserved for the Ages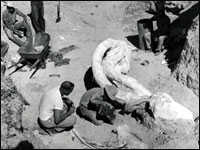 Photo Courtesy University of Nebraska State Museum
In the 1960s, workers in western Nebraska stumbled on the intact remains of two giant Ice-Age mammoths, their tusks locked together -- a vestige of the battle that doomed them both. After sitting in storage for decades, the unique fossils will finally go on public display soon.
When Mammoths Roamed the Earth
Mammoths first sprang up in Asia around 1.6 million years ago and gave rise to various species. Animals that moved into Europe and Asia were called steppe mammoths. These evolved into woolly mammoths, which were about 11 feet tall and weighed 6-8 tons.
The mammoths discovered in Nebraska were Columbian mammoths. These were bigger than their woolly cousins: up to 13 feet tall and 8-10 tons heavy. Columbian mammoths were descended from Mammuthus meridionalis, the ancestral mammoth species that first crossed into North America via the Bering Land Bridge about a million years ago.
Columbian mammoths had tusks that could be 9 feet long or more. They had flat teeth for grinding grass, munching on as much as 700 pounds of vegetation a day.
Columbian mammoths had a lifespan of 60 to 80 years.
Mammoths are not the ancestors of modern elephants, though they are closely related. Mammoths evolved around the same time as elephants but died out sooner.
Mammoths went extinct about 11,000 years ago. Many scientists believe dramatic climate change and over-hunting by humans were to blame.

Mammoths lived during the Ice Age, which lasted from 1.65 million years ago to 10,000 years ago. Three layers of hair and about four inches of fat kept them warm.
The fossils were discovered in 1962 in the Nebraska Panhandle, when a pair of workmen stumbled on a large thighbone while installing an electric line on a ranch. That summer, 20-year-old paleontology student Mike Voorhies was in the area working on a fossil dig. After working at the discovery site for a couple of days, Voorhies and his crew realized the men had found the intact remains of not one but two Ice-Age mammoths.
"Once we got to the skull, it turned out, 'well, there's one tusk, there's two tusks -- uh oh, three tusks. What's going on here?'" Voorhies recalls. "Even a young student realizes an elephant only has two tusks. So it gradually dawned on us that we actually had two animals, locked in a death struggle -– and probably the most exciting single fossil that I've ever seen. "
Now in his 60s, Voorhies is the curator of paleontology at the University of Nebraska in Lincoln. And the mammoths, after decades of being in storage, viewed almost exclusively by researchers, are being prepared to travel 400 miles west. Voorhies says there's no other known fossil quite like it anywhere in the world. The two mammoths' tusks are locked together, intertwined like a pair of twisted tree trunks. "It's actually the old story," Voorhies says. "They were fighting over sex."
Scientists believe that like modern elephants, male mammoths periodically produced extra testosterone, which drove them to fight over mates. University of Michigan professor Dan Fisher is studying the mammoths' tusks, looking for clues about why the species went extinct. Fisher says the Nebraska find gives scientists a rare glimpse of animal behavior preserved in the fossil record.
"To find multiple individuals caught in the act of some interaction that was critical to their lifestyle -- [it] gives you just an extra dimension that isn't usually there," Fisher says.
Voorhies, the paleontologist, says it appears the two competitors were so well matched that neither one backed down. Standing over the 12-foot-long wooden pallet that supports the giant fossil, Voorhies points to the tip of one mammoth's tusk, which pokes into the eye socket of its opponent:
"These guys were not fooling around," he says. "And there's the old adage in boxing that the bigger they are, the harder they fall. You can just imagine two, eight-ton animals sort of falling over and then not being able to get up."
Today, the tusks and skulls lie on the wood floor of the large, fourth-floor room where they're being prepared for public exhibition. Using a knife and brush, a museum worker is scraping off layers of old, yellowed shellac, revealing the off-white surface beneath.
The exhibit is scheduled to open at a museum near Crawford, Neb., in April.