Mozart's Last Symphony: The Giant 'Jupiter'
Mozart's Last Symphony: The Giant 'Jupiter'
Listen: Symphony No. 41
First Movement: Allegro Vivace (English Baroque Soloists, conducted by John Eliot Gardiner)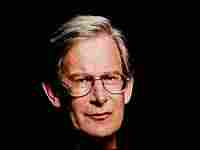 Wolfgang Amadeus Mozart's last symphony, the Jupiter Symphony (No. 41), was written along with two other, full-length symphonies in the summer of 1788 -- in just six weeks. Mozart had recently been idolized all over Europe for operas such as Don Giovanni and for his spectacular performances of his own piano concertos.
But, by most accounts, Mozart was near the bottom when he wrote it: broke and in debt. His audiences had become interested in other composers. Austria was at war with Turkey. And his newborn daughter had just died.
Still, Mozart was determined to do something revolutionary. That comes in the final movement of the Jupiter Symphony with the composer's use of counterpoint, or weaving together two or more different melodies. Mozart uses five different melodies simultaneously in the Jupiter, making it a challenge for any orchestra that takes it on.
Some have said the Jupiter sums up what had happened in symphonic music up to that point, and that it foreshadows the work of Beethoven. But more than that, it's exuberant and introspective, charming and complicated -- a lot like life itself.
If I Could Have Met Mozart...
Answers to the question: "If you could have met Mozart, what would you ask him or say to him?"
"Oh God, there'd be so many things to talk about. I'd want to talk about him about his beliefs, about religion and whether he felt comfortable writing for the church, because I feel it's very significant that his two greatest church compositions are both left unfinished: the great C Minor Mass and the Requiem. Was it simply pressure of work, or constraints of time or health that prevented him from completing both of these pieces? Or did he, in a way, come across some huge great roadblock which made it hard for him to set to music those difficult words in the credo, in the "I Believe" section of the mass. [The words are] about the resurrection of the dead and the life in the world to come and the holy Catholic Church, which he doesn't set to music in C Minor Mass."
-- Conductor John Eliot Gardiner
Aside from asking him how he ever found time to sleep, I suspect I'd be star-struck in the first moment. But then, as a conductor, I would to ask him questions about performance practice: his tempos, his articulations, dynamic ranges, tone production, ensemble sizes and musical gestures. As a 21st-century citizen, I'd want to know what he thinks about the music of today, in all its myriad expressions. But perhaps the most important question, which would answer all the others, would be simply to ask him to play for us.
-- Conductor Elizabeth Schulze
I would first of all say thank you, for all the fantastic music. Then, I'd play him a recording of Beethoven's Ninth Symphony, to get his reaction. Then I'd play him Wagner's Die Walkeure; then I'd play him Verdi's Falstaff. Then Schoenberg's five pieces for orchestra. I'd love to know what direction his mind would want to go, musically.
-- NPR Producer Tom Huizenga