'Brokeback Mountain' Leads Oscar Race
'Brokeback Mountain' Leads Oscar Race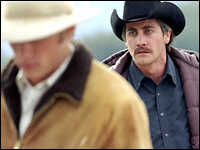 Brokeback Mountain, the story of the love between two cowboys, receives Oscar nominations in eight categories, including best picture, best director and best actor. A strong dark-horse contender for best picture is Crash -- a dark take on urban culture and racial politics set in Los Angeles -- which received six Oscar nods. And Munich, Steven Spielberg's controversial film about the aftermath of the 1972 terrorist attack at the Olympic games, scored five nominations, including best picture and best director.
And the Nominees Are...
Brokeback Mountain and Crash are two of the favorites to win the Academy Award for Best Picture this year. The former won the Golden Globe in the category, while Crash was chosen for best drama by the Screen Actors' Guild. The two competitions offer a hint at who might be standing at the podium on March 5, when the winners will be announced.
A list of this year's nominees, with related stories: