U.S. Troops Overseas to See Ad-Free Super Bowl
When troops stationed in Iraq and elsewhere overseas watch the Super Bowl on TV, they don't see the commercials that everyone else does. Instead, they see taped messages recorded by players during the mayhem of Super Bowl media day.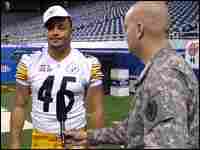 ROBERT SIEGEL, host:
Super Bowl XL is just days away and as always many people will tune in mostly for the new batch of television commercials. Well that will not be the case for U.S. military personnel watching on Armed Forces Television. Under its deal with the networks, the military can show the game but not commercials, leaving the Pentagon with some time to fill. Here's NPR's Luke Burbank.
LUKE BURBANK, reporting:
It's the first official media day of the hype machine that is Super Bowl XL. And the artificial turf of Ford Field is covered with people.
Unidentified Man: Attention media there are five minutes remaining in the Steelers' availability.
BURBANK: There are the ex-jocks turned analysts. The current players who are huge even without their pads on. And then the random elements like comedian Gilbert Gottfried here to make fun of the whole thing.
Mr. GILBERT GOTTFRIED (Comedian): I know plenty about football. They wear helmets and they throw a ball around. Sometimes they kick it. Hence the term football.
BURBANK: And yet amid all this the person who might stand out the most is a skinny guy with a flat top dressed head to toe in camouflage.
Sgt. JAKE NEWMAN (Pentagon Channel): I've had several people come up to me and just say hey you're in the army what are you you doing here? It's the last thing you would expect to see at a Super Bowl media day is some guy in uniform running around asking questions to football players.
BURBANK: The guy is Army Staff Sgt. Jake Newman, a special projects producer for the Pentagon Channel. And the person responsible today for wrangling as many of the players as he can into recording inspirational messages for the troops.
Sgt. NEWMAN: Would you mind now coming down and sending out a special message to the troops?
BURBANK: Because the military doesn't play the commercials, there's a lot of time to fill. Some of it gets filled with Pentagon announcements. The rest with messages from the players. Players like Shaun Nua, a defensive end for the Steelers.
Sgt. NEWMAN: And just look right into the camera. Say what you want to say to the troops.
Mr. SHAUN NUA (Pittsburgh Steelers): Uh, just want to say thanks you all for everything that you all doing you know. You guys are the real heroes out there.
BURBANK: Even though the messages are unscripted. One common theme seems to emerge: appreciation for the troops. Of course a lot of editing is necessary too for players who inadvertently swear, like Steeler Linebacker Richard Seigler.
Mr. RICHARD SEIGLER (Pittsburgh Steelers): I want to send a special message to my brother Shawn. I believe he's over in there in Baghdad somewhere right now. I know he's over there kicking ass like he knows how.
BURBANK: And for those who say things not quite in line with the message the Pentagon wants the troops hearing. For instance, mentioning that Iraq is a dangerous place is okay. Specifically telling soldiers to duck as one reserve wide receiver did is not.
Sgt. NEWMAN: Yeah we do have to edit some of the stuff out. Sometimes they just, they get into it so much but that's the beauty of this thing. It's all, it's their words. I mean it's, we don't script this at all. This is what they want to say.
BURBANK: Well sort of.
Sgt. NEWMAN: And then look right into the camera and say America supports you.
Unidentified Player: America supports you.
BURBANK: Newman did this with every player none of who, on this day, seemed to question the notion. But Newman says there are the occasional athletes who aren't behind what he's doing.
Sgt. NEWMAN: We get some people who look at us and say I don't like war. I don't want to say anything to the troops. And that's their prerogative. That's the beauty of America.
BURBANK: The Super Bowl is a big day for troops around the world. A chance to feel connected with their home. Sgt. Newman says the messages from the players are a huge morale boost.
Sgt. NEWMAN: It means a lot. I mean for these guys to take time out of their schedule to just say, hey, thanks for what you do. It means a lot.
BURBANK: Almost enough to make someone forget they're missing out on the best part of the game. The commercials.
Luke Burbank, NPR News, Detroit.
NPR transcripts are created on a rush deadline by Verb8tm, Inc., an NPR contractor, and produced using a proprietary transcription process developed with NPR. This text may not be in its final form and may be updated or revised in the future. Accuracy and availability may vary. The authoritative record of NPR's programming is the audio record.