The Voice Behind Onion Radio News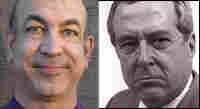 The radio reporter who rips the lid off stories no other journalist will touch, P.S. Mueller of Onion Radio News, talks about his work in fake journalism and his radio alter ego Doyle Redland.
Mueller, based in The Onion's original home of Wisconsin, also talks about his career as a cartoonist -- his work often appears in The New Yorker. The interview is part of a Talk of the Nation broadcast from Wausau, Wisc.
Reports from Onion Radio News
'A Mosquito's Life Is Cut Short'
'Jesus Is Questioned for Accepting Tithes from Lobbyists'
'14 Feelings Are Hurt in a Local Teasing Incident'