Valentine's Day: Candies to Buoy Your Heart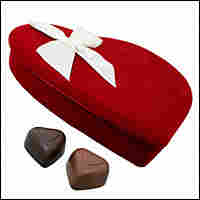 With the exception of one brief interlude, all of my Valentine's Days have been valentine-free -- no flowers, no proclamations of love from secret admirers, no romantic dinners. It's a history that might be a recipe for bitterness.
About the Author
Gabriella Gershenson is a New York City-based food writer and restaurant critic. Her work has recently appeared in The New York Times, Paper magazine and Nextbook.org.
But there is one thing that keeps me looking forward to the holiday. And, as you can imagine, it's not a belief in soul mates, the knight in shining armor, Prince Charming or everlasting love.
It's the candy: foil-wrapped chocolate cupids, conversation hearts with silly messages, ribboned boxes with assorted bonbons inside.
Such sugar bombs aren't very good, even for drugstore candy. But their whimsy and abundance have always charmed me, and trump their lousy ingredients. For years, these iconic red and pink wrapped sweets sustained my relationship with Valentine's Day and kept my cynicism at bay.
Then one year, I came across very simple-looking recipes for chocolate truffles and candied orange peel. I decided I'd had enough of waiting for a gift that might never come. I would make my own Valentine's candy. I even convinced myself that the joy of creation might sublimate any unresolved feelings of self-pity into a cocoa-scented vapor.
On my way to the market to pick up some good quality chocolate, I passed a line of suitors snaking around the block, waiting to buy their sweethearts sorry Godivas. I couldn't help by feel a bit smug about the fabulous confections I would be making.
The recipes turned out to be uncomplicated, easy to follow and extremely gratifying -- the opposite of any romantic relationship I had ever been in.
Transforming such basic ingredients -- chocolate and cream, sugar and water -- into such desirable commodities is nothing short of alchemy. I suppose that part of me had always imagined that candies, like diamonds or gold nuggets, were mined whole from a secret source -- and certainly not created by human hands.
Candy-making words like "temper," "soft ball" and "hard ball," and directions that include excruciatingly precise temperatures are intimidating, even scary. If the mercury creeps past the perfect point, your mixture is ruined. The road from softball to hardball is a brief but treacherous one.
But making truffles and candied citrus peel is both forgiving and sublime. In boiling sugar syrup, the orange rind becomes translucent. Stir hot cream into bittersweet chocolate, and the mixture turns to satin.
When I look at my expertly formed, cocoa-dusted truffle kisses and crystalline orange batons, my sense of accomplishment is always an antidote to any threatening Valentine's Day venom.
Sharing with my very impressed friends and basking in the glow of their adulation never hurts, either.
Chocolate Truffles
When I first made truffles, I asked a local bakery for their smallest box and lined it at home with parchment paper. Surprisingly, it made quite an elegant container. I use candy cups when I want to put the rinds and truffles in the same box. And don't skimp on the quality of the ingredients -- the finest chocolate and the freshest cream will make the best truffle.
11 ounces high quality bittersweet chocolate, broken into pieces (Valhrona 56% and Scharffen Berger 62% are good choices)
1 cup heavy cream
4 tablespoons unsalted butter, at room temperature (you can substitute 2 tablespoons of liqueur for 2 tablespoons of butter)
1/2 cup cocoa powder (again, the best you can find)
1. Place the chocolate in a stainless steel bowl. Bring cream to a boil and pour it over the chocolate. Allow to stand for a minute and then stir gently until the chocolate melts completely, being careful not to create bubbles.
2. Add the butter in two stages, stirring steadily. Once the butter is fully incorporated, the ganache should be smooth and glossy with no oil slick on the surface.
3. The ganache needs to set until it is firm. It can cool at room temperature for an hour and then be refrigerated for 2-3 hours, or be refrigerated overnight.
3. When you are ready to make the truffles, line a baking sheet with parchment and put the cocoa in a bowl. Ensure your hands are clean and dry, then dust them with cocoa.
4. Take spoonfuls of the ganache (teaspoons or tablespoons depending on how large you want your truffles to be) and roll them into a ball. This will also warm the chocolate slightly so the cocoa will stick.
5. Drop each shaped truffle into the bowl of cocoa until completely covered. (You can also roll the truffles in coconut, chopped macadamia nuts or pistachios, or crushed chocolate cookie crumbs.)
6. The truffles can then be returned to the refrigerator and kept for up to 2 days stored in an airtight container. Let them come to room temperature for 15-20 minutes before serving.
Candied Orange Peel
Adapted from Truffles, Candies, and Confections: Techniques and Recipes for Candymaking by Carole Bloom (Ten Speed Press, 2005)
6 to 8 large, thick-skinned oranges
6 cups sugar
1/4 cup orange liqueur
1. Slice the ends off the oranges and discard. Cut the oranges into quarters, then cut off all but 1/2 inch of the pulp. Cut the quarters into 1/2-inch slices.
2. Place the orange slices in a 6-quart saucepan and cover with cold water. Over medium-to-high heat, bring the water to a boil. Boil for 5 minutes. Drain off the water and repeat this process with fresh cold water two more times.
3. After the third boil, drain the orange slices, rinse them in cold water, and remove any pulp that is still attached. In the saucepan, combine the orange slices, 3 cups of the sugar, and the orange liqueur, and cook over low heat until the sugar is dissolved (about 5 minutes), stirring constantly.
4. Continue to cook over low heat for 1 1/2 hours, stirring frequently. Most of the sugar will be absorbed by the peel as it cooks. Remove the saucepan from the heat and immediately begin the next step.
5. Place the remaining 3 cups sugar on a sheet of waxed paper. Roll spoonfuls of the orange slices in the sugar, separating the slices to coat them completely.
6. Transfer the slices onto another sheet of waxed paper and let them air-dry (20 to 30 minutes).
In a tightly covered container, the peel will keep for 2 to 3 months in the refrigerator.