The Sounds of Love: Valentine's Day Music
It was clear in the results of NPR.org's Valentine's Day music poll: love comes in many forms and there's a song for every occasion -- the love of a parent, a child, the love of a pet and, of course, romantic love. Gen-Xers overwhelmingly picked Peter Gabriel's "In Your Eyes" as their favorite love song. Boomers loved "At Last" as sung by Etta James. There were many more -- too many to list them all. Below are some of the selections with the stories behind them.
A Childhood Love Rediscovered
"On a warm summer evening in the 1960s, I accompanied my father to the local beer/soda mart in Milwaukee, Wisconsin where we lived. As was the case that night, my father would often buy me an ice cream cone at a nearby custard stand on Okalahoma Avenue as a gratuity for my patience while I waited in the car and he shopped. As he departed the vehicle, he would ask me if I wanted the radio left on. This was usually my only opportunity to change the radio channel from my father's preferred easy listening station to WOKY, a popular Milwaukee rock-n-roll station. My answer of course was an emphatic 'YES.' His typical response to my favorite music was, 'turn that noise off.' In his absence, as the disc jockey began playing 'Cathy's Clown,' I noticed an attractive young girl wearing a white patch over her left eye seated in a parked red convertible. As she casually glanced my way I felt an unusually strong attraction for her combined with sympathy. Her range of vision seemed obscured by the eye patch and I doubt that she even saw me, although my adolescent heart wished otherwise. It was also the first time that I had heard 'Cathy's Clown' played on the radio and I was enthralled by the tight vocal harmonies and the crescendo passages. Upon my father's return we slowly drove away to the sound of 'Cathy's Clown' and I regrettably looked back at the girl who had unknowingly captivated my heart. Thankfully, my father did not turn the music off. I never forgot that day nor the song.
Nearly twenty years would pass before I retold this story for the first time to my wife while playing 'Cathy's Clown' from a recently-purchased Everly Brothers greatest hits album. Astonished, my wife began to ask several questions: 'Where was the beer/soda mart located? What color and kind of car was the girl sitting in?' and 'Which eye did you say the girl had a patch on?' To my amazement my wife Kathy admitted to frequenting the same beer/soda mart with her father who drove a red 1967 Buick convertible at a time when she had an infected left eye requiring a patch. I strongly suspect that the little girl was in fact my current wife, Kathy. We both agree." — John in Wisconsin
"Cathy's Clown" from the Everly Brothers' All Time Original Hits
Thank You For the Days
"My son was born with a fatal heart defect and he died after a nine-day struggle, including 12 hours of open heart surgery on his ninth day. After he died, I began hearing all love songs in a very different way — 'I'll be Seeing You,' 'All of Me,' 'Fly Me to the Moon,' 'One,' for example — all sounded and meant different things after this tragedy. It's been 2 years, and I've learned to hear love songs again. But this haunting (Kinks) song (as performed by Elvis Costello) will always be mine and Jon Henry's. I thank him for the days." — Jennifer in California
"Days" from Elvis Costello's Kojak Variety
A Generation X Favorite
"The lyrics ring true for anyone who has been disappointed in love time and time again, only to be redeemed by finding the perfect match. 'I see the resolution to all those fruitless searches' and 'I see the doorway to a thousand churches' are some of the most poetic (without sounding cheesy) lyrics in the love song genre." — Josh in Illinois
"Too beautiful. I relate to this song. My husband works a lot and when we had two little ones at home we would hear this song and think of each other. There's a part in the song that conveys a man's difficulty balancing work and home: 'working so hard for our survival.'" — Carrie in California
"In Your Eyes" from Peter Gabriel's So
Pure, Selfless and Moving
"Because I heart my dog, Benny. Because when he walks his tail goes in a clockwise motion. Because when he drinks he drools all over the floor then finds me to wipe the rest on me. Because when I wake up he is sidled next to me. I'm not sure what I will do without him." — Lauren in Oregon
"This song is so pure and selfless, and moving. Toward the end, when the song winds down with the rounds of the singers, it really moves my heart and makes me feel like giving love and thanking those or that person who has loved me. It also reminds me of how I have helped those I have loved. It is simply a beautiful and moving song in hommage to the power and sacredness of love." — Danielle in California
"God Only Knows" from the Beach Boys' Pet Sounds
The Best Love of All
"When I met my husband I was 30 and had lived in several other places and had several other suitors. I feel a special fondness for that time of my life. Despite my experiences with different people and different places, the experience of loving my husband is the best one so far.
I like the song because it sums up my love life and my feelings about the past. I started including the phrase 'In my life I love you more' in his birthday, anniversary and Valentine's Day cards when I first met him many years ago. The last time I wrote it was Oct 19, 2005 when we celebrated our 20th anniversary." — Margaret in Texas
"In My Life" from the Beatles' Rubber Soul
Love Finally Found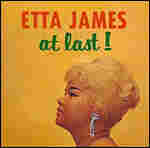 "It is beautiful; it is the epitome of romance. The strings in the background build up the song, and then Etta's voice just melts your heart. It's like honey. I first heard this song in the movie Pleasantville, when the main characters are driving down to 'lovers lane' and cherry blossoms are falling all around them. It is so simple, and such a heart-warming image. There have been many, many covers of this song because it is so universal, because it describes exactly how you feel when you first fall in love. But Etta James sings it with the most heart, the most expression. She's the one who really brings the message home. She makes you feel that you too have found your one true love, at last." — Lily in California
"It expressed my every girlhood thrill of AT LAST being in love and marrying my husband. I had dreamed of falling in love since I was three and dreamed of who my husband would turn out to be and when I finally had the answer to those questions Etta just summed it up so beautifully with her smoky voice. My heart WAS wrapped up in clover the night I looked at you. Perfection." — Amanda in Florida
"At Last" from Etta James' At Last
Never Lose A Sense of Wonder
"My sister, Natalie passed away a few years ago at age 39. Her body was ravaged by ovarian cancer for 13 difficult months. My mother, who kept constant vigil at her bedside played DJ for her in hope that her favorite music would lift her spirits and ease her pain. It got to the point where Natalie couldn't bear to listen anymore and asked my mother to silence the stereo. When my mother asked why Natalie replied 'Because it makes me want to dance.'
The Christmas following Natalie's death, my mother gave my brother and me a hardcover book and CD of Lee Ann Womack's "I Hope You Dance". Although my mother didn't say it, I believe she gave it on behalf of my sister who, every time I play the CD, sings to me from Heaven." — Kristen in Virgina
"I Hope You Dance" from Lee Ann Womack's I Hope You Dance
The Story of Tom And Martha
"This is the saddest, most lyrical song about a missed love. Forty years after parting, a man calls his old sweetheart and tells her, as 'he fights the tears' that she was the love of his life.
I found the album Closing Time after listening to a late-night radio show host spend a nostalgic hour talking about his teenage days of listening to Tom Waits with his friends. The quiet midnight voice of the anchorman, his longing for his younger days, and the fact that I was by myself in a large office in Israel, doing the night shift and probably feeling a little sorry for myself, made me go ahead and buy the album. It could have taken me more than one or two listenings before I completely fell in love with the song 'Martha.' Ever since then, I've been carrying the pain of these two lovers in my heart. I know it for them. It is not always horribe — they both found other people, had families. Sometimes, when one is not in a tragic mood, it can be almost a sweet pain and, sometimes, it goes beyond being horrible and becomes so distilled and pointed and pure that it is a glimpse of eternity.
I recently sang this song to my mother during a car ride and by the end of it she was in tears. Recently she has been fighting an illness that has damaged her memory, and so learning a song that is not in her native language is very difficult. We sang it together five to six times a day in our car or in the kitchen and finally I wrote down the lyrics and now she is carrying it in her purse. I am somehow thankful for the fact that she now too knows the pain of Tom Frost and Martha." — Yoav in New York
"Martha" from Tom Waits' Closing Time
Supporting One Another
"When I first met my husband, Erich he played this song for me and, of course, I began to cry. We both have always been Depeche Mode fans and I had to admit to him that I didn't remember hearing this song before. To me it was beautiful and perfect and, of course, ended up being our wedding song in October of 2005. Erich is a wonderful and talented artist. As we survive on just my income, my husband is pursuing his art as a sculptor. He feels that even if he doesn't make it, well at least he tried. We support each other and I most of all like seeing him grow as an artist. However, I'm also his worst critic. Last Decemeber, we saw Depeche Mode in concert outside of D.C. As a fan, it was a dream come true to see them with the man of my dreams. As an encore, Martin L. Gore sang 'Somebody' and, like a baby, I cried my eyes out. Erich will always be my 'somebody'." — Melissa in West Virginia
"Somebody" from Depeche Mode's Some Great Reward
Longing, Angst and Hope
"This song is perfect because it describes what we were both feeling in a very strange yet exciting time period. (This was) before we decided that, as difficult as it was going to be in the beginning, we had to admit to ourselves, to one another, and to everyone we knew, that we simply had to be together. The song brings about those feelings of longing, angst, excitement and hope. It's the idea of a great new beginning and lifetime together. It's a love song." — Michelle in Michigan
"I Don't Want to Get Over You" from the Magnetic Fields' 69 Love Songs, Vol. 1