Beyond Frou Frou: Imogen Heap
Imogen Heap in Studio on World Cafe - 03/27/2006
Set List
Songs Imogen Heap plays for 'World Cafe':
"Goodnight and Go"
"The Walk"
"Hide and Seek"
"Headlock"
After rising to notice as the singer for Frou Frou, Imogen Heap has become a well-known pianist and vocalist after going solo. Her new effort, Speak for Yourself, continues that trend.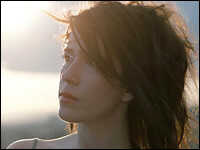 The record is the London-based Heap's second since leaving Frou Frou, the band she started with Guy Sigsworth. Under her own name, Heap has explored music at her own pace, and on her own terms.
Heap says Speak for Yourself gave her the chance to build on the things that first drew her to music as a child. But even as she considers the musical legacy she received from her parents, Heap is very much her own singer -- from songwriting to technology, she has followed her own tastes in creating the new songs.
So far, the reception has been warm. Speak for Yourself gained a great deal of exposure e after some of its songs appeared on two soundtracks: television's The OC and the indie-film hit Garden State.
This interview originally aired on Feb. 10, 2006.