Costume Craziness
Photos by Alison MacAdam, NPR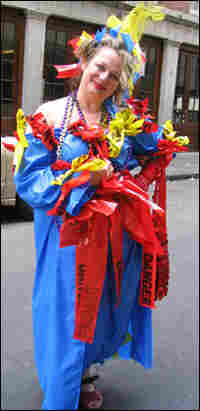 Carnival is synonymous with outrageous costumes and this city saved its best -- and worst -- for last. The streets are a sea of color and cheekiness and outfits -- or parts of outfits -- that would make a hooker blush.
A woman in the Garden District wears a suggestive black leather miniskirt, spikes and high-heeled boots. At the end of her two leashes are her small sons dressed as devils. A woman dressed as a nun is flanked by two men whose costumes include a colorful boa and bare buttocks.
There are men dressed as women, nuns, chickens, sharks, Queen Elizabeth and avengers of every stripe. And some women are wearing more body paint than clothes.
What is new this year are costumes a la Katrina. A man's got a boat wrapped around his torso. His female companion is up to her midriff with crepe-paper water. Get it? "Row vs. Wade." It's the visual punch line to a joke going round at the expense of Mayor Ray Nagin.
"Roe v. Wade?" the mayor says in this canard. "I don't care how they evacuate as long as they get out."
Meet Sam Lucero, Jeff Reeder, Harriet Roban -- the Krewe of MRE. They explain that they were eating meals ready to eat for so many months, as Katrina evacuees, that they decided to cover themselves with about 300 cutouts of MRE packages. Their sign says: "We are the Krewe of MRE. Lunch is on us."
Two girls walk down the street clad in skintight pink and white spandex leotards, looking like misplaced World Wrestling Federation performers -- their headbands proclaim them to be Rita and Katrina.
Bridget Lehane is dressed almost entirely in red tape, uttering the mantra "just call us and your check will be here tomorrow" to those in earshot.
Another man must have spent weeks working with Photoshop to produce his costume highlight. A giant book titled The Katrina Code: A Disaster by Michael Brown. On the spine, the publisher is listed as Doomsday. On the back, the blurb announces, "A mind-bending code hidden in the aftermath of Hurricane Katrina" along with many of the more embarrassing political bloopers from Katrina.
Husband and wife Raymond Donahue and Ann Donahue are the Mold Squad -- dressed as inspectors for black mold. They have personal experience. They had mold up about 4 feet in their home.
There's a whole troop of very tall Brownies with very hairy legs. Many people dressed as spoiled refrigerators with anti-Katrina messages.
One man who looks to be wearing no costume at all -- until he turns his back and you see the slogan: "FEMA promised me a costume."
--Susan Feeney, Robert Siegel, Alison Macadam, Andrea Hsu, Michele Norris, Christopher Turpin