The NCAA Tournament, from A to Z
Grant Halverson/Getty Images
Otto Greule Jr./Getty Images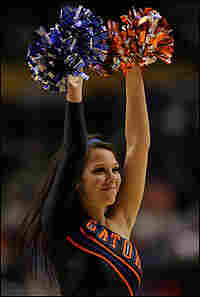 Basketball as it should be played was on display Monday night in Indianapolis. The man putting on the clinic was Joakim Noah of Florida.
Inside the Tournament
In his new book, Last Dance, sports writer John Feinstein tells the dramatic, behind-the-scenes story of the Final Four during the 2005 NCAA Tournament.
The son of tennis great Yannick Noah was simply everywhere at both ends of the court -- and running freely down the middle, too -- as the Gators solved UCLA's stifling defense and shut down the Bruins' big scorers. The 6-11 forward set a title game record for blocked shots... in the first half. He rebounded, he threw nifty passes for assists, he handled the ball in the open court and he scored when he needed to score.
UCLA, which looked so fluid and furious against LSU Saturday, found itself settling far too often for a half-court game it simply could not win. Credit Florida's sophomore guard Taurean Green for running a nearly error-free offense. But credit Noah for giving the Gators one of the great all-around floor games ever played with a national championship trophy on the line.
Coach Billy Donovan, the former Providence point guard, has built quite a program in Gainesville. This was the Gators' second trip to the NCAA title game this century... a claim no other program can make. They've averaged more than 21 wins a season since Donovan arrived (versus 11 a year before him).
And give the SEC a pat on the back, too. The league put Florida and LSU in the Final Four, and can also claim the N.I.T. title (South Carolina) and a women's Final Four team in LSU.
My last word on the way the brackets played out is this: MY team lost to the team that lost to the eventual national champion. Now, how many of us can say that? (Well, quite a few of us, actually... but this is a night for consolation, and I'll take mine where I can get it.)
See you next year, as Albany meets Northwestern State for all the marbles. You heard it here first.
Click on the links below for more running commentary.
A Is for Adam Morrison
Though he was reduced to tears by the loss to UCLA -- Gonzaga's first defeat after a 20-game winning streak -- Morrison will laugh all the way to the bank in the NBA. He's a relentless competitor and he has a nasty streak that bodes well for a pro career. He's no Bird, despite many similarities, but he's a top-flight scorer. His running battle with diabetes is an inspirational tale. And Saturday, he was officially annointed as National Player of the Year.
B Is for Believe, Baby
Before Morrison and Gonzaga moved into the big time (the Zags have been ranked in the Top 5 most of the year), they were a little school that could. Bradley may be the next smaller school on its way up in the rankings. The Braves knocked off Big 12 power Kansas and Pitt of the Big East on their way to a third-round loss to Memphis. A 13-seed this year, the future looks bright. They can play in Peoria.
C Is for Clair Bee and Chip Hilton
What some of these schools need now is Chip Hilton, ol' number 44. What? You don't know Chip? You must not have spent long nights under the covers with a flashlight reading the fiction-for-young-readers sports series by legendary Long Island University basketball coach Clair Bee.
Back to reality, and an odd parallel: Dee Brown of Illinois and Denham Brown of Connecticut seemed headed toward a collision course in the Sweet Sixteen. Then Washington stepped up and knocked off Illinois... as Dee Brown missed a three-pointer that could have tied it at the buzzer. Denham Brown was solid for the Huskies all the way through this tournament, as he has been during his entire career at UConn. But he, too, missed a last-second three-pointer that would have ruined George Mason's upset bid. You'll see both DBs in the NBA.
E Is for Fallen Eagles
The Boston College Eagles aside, this tournament was definitely NOT for the birds. Other avians flew the coop early. The list of feathered losers: Winthrop's Eagles, Marquette's Golden Eagles, Oral Roberts' Golden Eagles, Air Force's Falcons, Iowa's Hawkeyes, UNC-Wilmington's Seahawks and the afore-mentioned Kansas Jayhawks. Does Chief Illiniwek have feathers? If so, he's out, too.
F Is for Foye-Ray
Randy Foye and Allan Ray of Villanova are the beauties of this particular Beast of the East. The talented guard tandem got off to a good start against Monmouth, then held off Lute Olson's athletic Arizona crew. Ray showed no signs of trouble from the horrifying eye injury he suffered in the Big East tournament. And Foye really filled up the hoop against Boston College. They just weren't enough for Florida.
G Is for Georges
Georgetown. George Mason. George Washington. Sensing a trend here? All three D.C.-area schools made the tournament... and the most lightly regarded of the three nearly went the distance. Highly ranked George Washington won its first-round game, then became the odd George out in a tough-luck second-round battle with Duke. Resurgent Georgetown revived Hoya Paranoia -- well, reminded us of it, really -- but fell to Florida in the Sweet 16. (Guess you score this one Florida 2, Georges 0.) But George Mason represented the Colonial Athletic Association in amazing fashion. Ask Michigan State. Ask North Carolina. Ask Connecticut. Big 10? ACC? Big East? Fuggedaboutit.
H Is for Hobbs
It was a breakout season for George Washington University Coach Karl Hobbs, who built a reputation as a prescient recruiter during eight years as an assistant to Jim Calhoun at Hobbs' alma mater, Connecticut. (Richard Hamilton and Khalid El-Amin were just two of the players Hobbs lured to UConn.) Now Hobbs is being courted by Cincinnati, which needs a new head man.
I Is for Idols
Picking from the greatest who ever played or coached the college game, who are your starting five? You can have anybody: two guards, two forwards and a center. One guy shouting from the bench. Here is a starting five from the past 45 years of the college game that might win a game or two, but would not be MY starting five: Isaiah Thomas, Michael Jordan, Larry Bird, James Worthy and Bill Russell. And I didn't pick Kareem, either. Check out my FANTABULOUS FIVE.
J Is for JJ Redick
You can't toss a Cameron Crazy without hitting some sort of tradition on Tobacco Road. Duke senior JJ Redick is a statue waiting to happen... yet he may be the most reviled player in the country. An "anyone but Duke" mentality infests a significant portion of basketball fandom, and Redick is the most recent focus. It's a mystery why this should be. All he does is play hard on both ends of the court and score 27 points a game. But I must confess that I've never warmed to him either. And I ROOT for Duke. Being a college basketball fan means never having to pretend you're rational.
K Is for 'Kee Kee'
You won't see any more of JJ for a while, and unfortunately, you probably didn't see much of the man they call "KeeKee" at all. Keydren Clark of St. Peter's may be the most exciting player absent from the NCAA tournament. He was the NCAA's leading scorer as a sophomore and junior, and he's third this year (behind Morrison of Gonzaga and Redick).
L Is for Louisiana
In the wake of Katrina, it almost HAD to happen. Louisiana State is in the Final Four. But let's not forget that Northwestern State, out of Natchitoches, La., pulled a huge upset over Iowa in the first round. And Southern U., also representing Baton Rouge, made a more than worthy first-round opponent for No. 1 seed Duke.
M Is for Al McGuire
Few basketball announcers were more fun to listen to than the late Al McGuire, who called big men "aircraft carriers" and spectacular plays "French Pastry." He was also a top-flight college player (at St. John's) and coach (most famously at Marquette). He told his Marquette team he was retiring in 1977 and Butch Lee, Bo Ellis and friends promptly delivered him a farewell present: his first and only national championship. McGuire died of cancer in 2001 after a life that he would have described as "seashells and balloons," but for basketball fans of a certain age, his memory will never fade.
N Is for the N.I.T.
A word here for that other men's tournament gracing your television screen: I love the N.I.T. I especially love the effort from teams that could have packed it all in. South Carolina had a tough year with a lot of close losses, then nearly pulled off a huge upset win in the SEC tournament. Undeterred by the lack of an N.C.A.A. bid, the Gamecocks polished off their second N.I.T. title in a row. Their early round, overtime win over Florida State -- AT Florida State -- had everything you'd want in a basketball game, including the absence of Billy Packer.
O Is for Patrick O'Bryant
Even some of the sharpest basketball fans hadn't seen or heard much from the young Bradley big man until Sunday. Then he exploded with 28 points and 7 rebounds in a second-round win over Pitt. He outplayed Pitt's very fine senior big man, Aaron Gray. Against a phenomenally deep Memphis team, O'Bryant had 10 rebounds in the first half alone. The 7-foot sophomore is a comer.
P Is for Pittsnogle
The Mountaineers of West Virginia had another great tournament run. For the past two years, the school that produced the immortal Jerry West has put a bunch of versatile gamers on the floor who could score from any angle. They had a charming father-son act in the Beileins, Coach John and shooting guard Patrick. But the most interesting Mountaineer was the 6-11 wonder with the sweet touch from outside, Kevin Pittsnogle. He grew up in a trailer park in Martinsburg, the son of high-school dropouts. He learned to shoot on a gravel court. And he did himself proud again in his last college game, hitting a three-point shot to tie Texas with five seconds left and leading West Virginia with 19 points.
Q Is for Quakers
The Penn Quakers looked like a friendly first-round opponent waiting to happen. Don't try to tell Texas that. Penn slowed it down and kept it close and in the end, the No. 2 Longhorns were lucky to survive and advance. Penn fans also have their memories, and they're especially poignant this year: In 1979, the Quakers went all the way to the national semi-finals before a magical season went poof against Earvin "Magic" Johnson and Michigan State. Until George Mason's run, that was widely considered basketball's most improbable Final Four appearance.
R Is for That Rotten RPI
Penn didn't have to worry about its RPI to get into the tournament, but a lot of schools live or die by the Rating Percentage Index. The RPI measures a team's strength of schedule and how it does AGAINST that schedule. Hoop geeks argue endlessly over RPI. A quick scan of the RPI list at NCAA.com showed Duke, Villanova and UConn at the top as of March 7. But the list also showed how some of the mighty have fallen, and fast: Oklahoma State was No. 90. Wake Forest was at 107. Utah was No. 164. Purdue? 170. The team dead last among the 334 Division I schools was poor old Prairie View. George Mason's RPI, by the way, is well BELOW each of the four teams they have dispatched from the tournament so far.
S Is for Smith
Boston College moved from 33rd to 19th in the RPI during the touranment. But they rode the broad back of No. 1, senior forward Craig Smith, as far as they could. And Smith's 14 points and 14 rebounds were almost enough to propel the Eagles past Villanova in the Sweet 16. The 6-7 senior had already covered a lot of territory. He played at perennial Los Angeles power Fairfax High, but at 275 pounds, he found himself shunned by UCLA and USC. So he went east to Worcester Academy in Massachusetts, shed 20 pounds, reduced his body fat to 8 percent and got himself into academic shape as well. Next stop: NBA.
T Is for TV (Un) Coverage
Grateful as we all are for the sheer volume of basketball coverage in this cable-TV era, it remains utterly mystifying that the BEST basketball games of the year are not televised to the entire nation. CBS schedules the Sweet 16 round with overlapping games... eight in two days. Why? Why can't I see all four No. 1 seeds play instead of just half of them? Correct me if I'm wrong, but just last week, in the early rounds, I was treated to Belmont and Winthrop and Monmouth and so on... nothing against those wonderful underdog stories. I love it. Show me more. Now UCLA plays Gonzaga and I'm not allowed to watch unless I go to the Internet? It just doesn't make any sense.
U Is for UCLA
As in Universite de Cameroon au L'Afrique, perhaps? The University of California, Los Angeles features two freshmen from the African republic of Cameroon, including star forward Luc Richard Mbah a Moute. He's only played five years of organized basketball and now he's in a Final Four. And, to prove that some guys really do have all the luck (to go along with incredible talent) he's also a prince... the prince of his home village, Bafia.
V Is for Victory
Tallying up the wins of the traditional powers tells me this much: You probably won't know without looking which school is number FIVE in all-time wins. I'll give you a big hint: the first four schools wear BLUE uniforms, but not these guys. OK, here's one more hint: The next five schools on the list are Syracuse, Temple, Penn, Indiana and Notre Dame. OK, OK, I'll tell you... it's St. John's. Back in the day, little Louie Carnesecca won a lotta ballgames with players like Chris Mullin and the ugliest sweaters in coaching history. The most surprising school not in the top 50 all-time? Maryland.
W Is for Winthrop
Winthrop College of Rock Hill, S.C., didn't go far in this year's tournament, but coach Gregg Marshall is a man with an impressive record. He was an assistant at the College of Charleston during its brief NCAA heyday and an assistant at Marshall when the Thundering Herd won the Southern Conference in 1997. In seven years at Winthrop he has put the Eagles into the NCAA tournament five times. His 2000 and 2005 teams were granted No. 14 seeds in the NCAA brackets... the highest mark ever for a school from the tiny Big South Conference. This year, as a 15-seed, Winthrop gave Tennessee first-round heartburn. So where did Winthrop find this guy? Didn't have to look too far. He spent his first 3 1/2 years of life in a house on College Avenue in Rock Hill, S.C. -- just blocks from what is now his office.
X Is for X-Factor
Every NCAA tournament has an X-factor. Some have more than one. Recent variables have included Nevada and West Virginia -- teams that pulled off strings of upsets to move deep into the tournament. No. 13 seed Bradley showed signs before falling to Memphis Thursday, and few saw No. 7 seed Wichita State's run coming. But 11th-seeded George Mason certainly has waved off anybody else's claim to being the surprise team of the tournament.
Y Is for Why No Yellow?
"Yellow and white, fight, fight." Nah, you're not going to hear that much in the NCAAs. A color good enough for the sun itself is apparently just not bold enough for uniforms that have to make a showing on TV. Oh, sure, the Yellow Jackets of Georgia Tech are a worthy exception to the rule. But most schools are sour on a lemony hue. They go gold. Or Old Gold. Or Maize, for cryin' out loud. George Carlin once fearlessly asked: "Where's the blue food?" I submit that yellow could be the new red, if we all simply banded together. Who's with me? Go, Big Yellow. Roll, Yellow Tide. Fear the Yellow Wave.
Z Is for Zebras
Worse than yellow? Black and white stripes. So please don't let it all come down to the zebras. Overly officious officials are the bane of many sports, but it's particularly painful to watch the basketball brought to a screeching halt by cheap fouls and games that are too tightly called. Fortunately, the NCAA does a pretty fair job of putting the right people on the floor. Conferences evaluate and rank the officials who work their games over the course of the season. And the 96 refs who work the first two rounds (in three-person crews) are evaluated as the tournament moves along. But whistle-blowers, a word of advice: Just let 'em play!
Todd Holzman is supervising editor of NPR.org. He once scored 15 points in an IM game in high school. Like Uncle Rico of 'Napoleon Dynamite' fame, he remains certain that he woulda won state if coach had put him in in the fourth quarter. He is in no way affiliated with Dick Vitale, Billy Packer, Digger Phelps or the legendary Bones McKinney.