Multiple Tours in Iraq Begin to Take Toll
Multiple Tours in Iraq Begin to Take Toll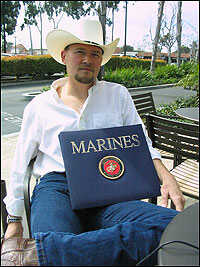 As the war in Iraq enters its fourth year, the U.S. military is showing signs of wear. Many of the soldiers and Marines in Iraq are now on their second or third tour. Both service people and their families say it's taking a toll.
When Marine Cpl. Josh Elmore crossed the border into Iraq three years ago, he had no idea what he'd gotten himself into.
"We had three or four guys who had actually been in combat before in Desert Storm. Other than that, no one had ever seen it before. It was new for everybody," Elmore says.
He recalls racing up the Iraqi highway into Baghdad, capturing the first presidential palace, and being welcomed by the Iraqi people. In his scrapbook of the war, Elmore keeps a handwritten note, given to him by an Iraqi boy.
Elmore reads from it, "'Nice to meet you. I love USA. Thank you, Mr. Bush.'"
But Elmore's scrapbook covers only the first two months of the conflict. It ends with a happy homecoming in May 2003. Back at Camp Pendleton in San Diego, Elmore figured he'd serve out the rest of his enlistment in low-stress assignments to Hong Kong or Australia.
Instead, in less than a year, he found himself back in Iraq, on that very same highway. This time, instead of heading for Baghdad, he and his fellow Marines turned towards a city that would become synonymous with the insurgency. In Fallujah, there were no grateful civilians, handing out thank you notes. Four U.S. contractors had been killed there.
"We knew the second time would be different," Elmore says. "But we weren't expecting to have to go in there and do a bloody battle. The whole mindset changed in an instant when they killed those four contractors."
Elmore says the battle for Fallujah made the initial invasion look like a cakewalk. He lost three close friends in the fighting.
Still, his unit wasn't finished with Iraq. Sent back to Ramadi last year for a third rotation, Elmore began to worry for his own safety.
"I told everybody, I was either going to come home in a body bag or wounded," Elmore says. "There's only so much luck that one can have."
Sure enough, a rocket attack last April left Elmore riddled with shrapnel. It's taken six surgeries to repair. Elmore shrugs off the danger as part of the job. But he admits the life of a Marine is not easy on the family.
Brandi Dewitt can vouch for that. She lives on base at Camp Pendleton with three children and a protective beagle. Her husband Edward is now in Fallujah for his second rotation, which is expected to last for a year or more.
"During the day it's not so bad, because I'm used to him being gone," Dewitt says. "But at night it's hard. And the weekends drag by. And you kind of wait for the phone calls and stuff like that. So it's difficult."
Marine Capt. David Denial jokes that he and his wife are still newlyweds. Even though they've been married two years, they've spent most of that time apart. While based at Camp Pendleton, Denial made three tours of Iraq, and he's ready to go back, he says. For now, though, he's enjoying a break from combat, working at the Marine Corps Recruit Depot in San Diego. The young Marines training outside Denial's window signed up with different expectations than he did.
"Most of the drill instructors and myself, we all joined the military when it was basically a peacetime military," Denial says. "Something we'd probably never let the recruits know. But we admire these young men who joined the military in a time of war, when there is definitely a danger. I mean we're at war. We're a nation at war."
Denial says progress is being made in that war, and he believes it's worth it. Cpl. Elmore agrees, although he won't be going back to Iraq himself for a fourth rotation. Wounded and worn out, Elmore left the Marine Corps two months ago, happily trading in his combat boots for an alligator-skin cowboy pair. "There's only so much insanity in a person," he says, to "keep going over there."